Marvel's Midnight Suns announced, coming to Switch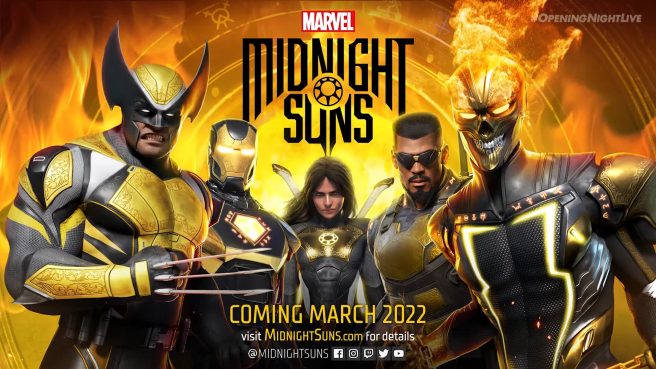 At Gamescom: Opening Night Live, publisher 2K Games and XCOM developer Firaxis announced Marvel Midnight Suns. It'll be heading to Switch in March 2022.
According to creative director Jake Solomon, the game will star The Hunter as a brand new hero made in partnership with Marvel, and the character can be full customized in terms of appearance and combat. The title is described as a "tactical RPG set in the darker side of the Marvel Universe, putting you face-to-face against demonic forces of the underworld as you team up with and live among the Midnight Suns, Earth's last line of defense." You'll be tasked with defeating Lilith, who's out to destroy the world.
Thirteen characters will be in the game. The confirmed lineup thus far includes Iron Man, Captain America, Captain Marvel, Doctor Strange, Blade, Nico Minoru, Magik, Robbie Reyes (Ghost Rider), and Wolverine. The last few remaining characters will be announced in the future.
The first trailer that debuted at Gamescom was all CG. However, we'll be getting a first look at gameplay on September 1.
Watch the first trailer below.
Fans can access the official website here. Fans can sign up for updates to receive an exclusive Blade Nightstalker Skin.
Leave a Reply