Metroid Dread holographic foil poster set added to My Nintendo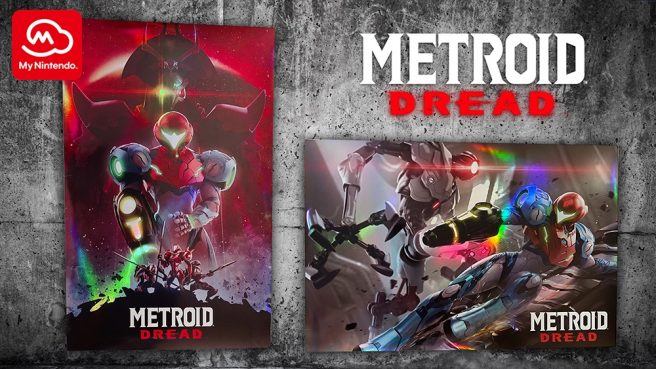 My Nintendo has just added a new Metroid Dread holographic foil poster set for its North American users. It can be ordered now for 1,000 points. The size comes in at 11.75″ x 18″.
Both posters feature key art from the game. Samus is shown in both images, with the Chozo featured in one and E.M.M.I. in the other.
That's not actually all for rewards on My Nintendo. Other than the Metroid Dread poster set, fans can also enter a sweepstakes, and if you're selected, you'll be given a 20″ W x 24″ H Metroid Dread HD metal sublimation print, PowerA Enhanced wired controller and slime case, and a hoodie sweatshirt. There will be ten winners in total. It costs 10 Platinum Points to enter the sweepstakes, and you can submit up to three entries total.
Finally, My Nintendo has a Metroid Dread wallpaper up for grabs as well. It can be downloaded in twelve different resolutions with support for PC, smartphones, and tablets.
You can redeem all of the new Metroid Dread rewards including the new poster set on My Nintendo here. Note that there is a shipping charge for the poster set as is the case with all other physical items.
Metroid Dread will be available for Switch on October 8. We have a video here that analyzes what elements the title is borrowing from previous games, and how it is trying to create the best Metroid experience possible.
Leave a Reply