Miitomo – returning Miitomo Drop stage theme (8/13/17)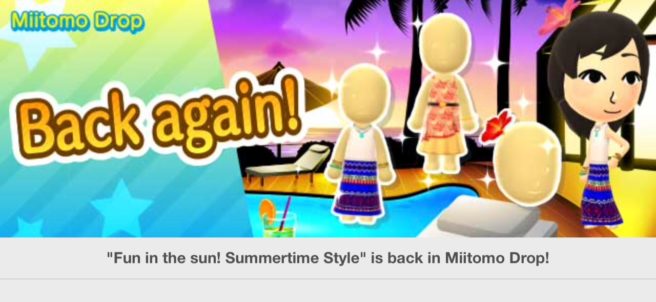 Miitomo has been updated with more content. Users will find returning stages with more items.
"Fun in the sun! Summertime Style" is the returning theme. The stages provide the following:
– Hibiscus hairpin
– Flower print ensemble dress
– Turquoise bracelet + ankle skirt
– Turquoise sandals
– Crazy print Hawaiian shirt
– Shirt + pineapple dress
– Woven resort sandals
– Hibiscus lei
– Tropical glass costume (set)
– Tropical-juice straw (set)
– Hula top (set)
– Hula skirt (set)
The returning stage will be available until August 15 at 6 PM PT / 9 PM ET.
Leave a Reply