Minecraft Dungeons FAQ – future cross-platform play, Hero Edition, future free updates, more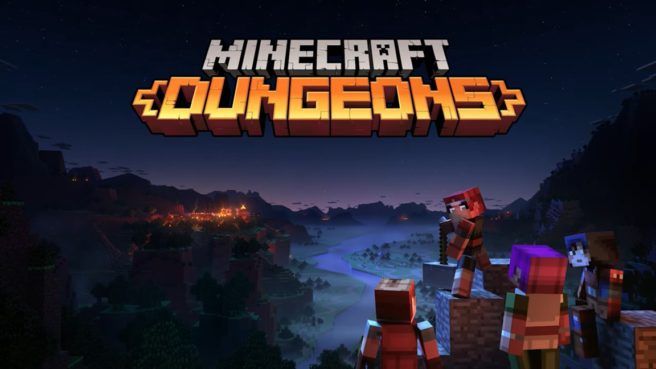 A new Mincraft Dungeons FAQ was added to the official Mincraft website today, revealing new information about the game.
There are a few main takeaways. Mojang is looking to include cross-platform play in the future, a Hero Edition is planned with some extras, and there will be "many free updates" after launch.
Here's the FAQ in full:
GENERAL INFO

WHAT IS MINECRAFT DUNGEONS?

Developed by a dedicated, passionate team at Mojang, Minecraft Dungeons is a brand-new action-adventure title set in the Minecraft universe inspired by classic dungeon crawlers. Battle new-and-nasty mobs across action packed levels in either single player or up to four-person co-op multiplayer in this epic quest to defeat the evil Arch-Illager.

WHAT PLATFORMS WILL MINECRAFT DUNGEONS BE AVAILABLE ON?

Minecraft Dungeons will be released simultaneously on Windows, Xbox One, Nintendo Switch, and PlayStation 4. The game will also be available on Xbox Game Pass at launch for PC and Xbox One.

DOES THE GAME HAVE ONLINE AND LOCAL MULTIPLAYER?

Minecraft Dungeons features online and local play for up to four players co-operatively. The difficulty, enemy count, and the loot will adapt based on the number of players in each session to consistently provide a fun, rewarding experience.

DOES MINECRAFT DUNGEONS SUPPORT CROSS-PLATFORM MULTIPLAYER?

At launch you´ll be able to play online multiplayer with players on the same platform. Our goal is to let everyone play together regardless of platform, and we're looking forward to enabling cross-platform play in a future free game update.

HOW MUCH WILL MINECRAFT DUNGEONS COST?

Minecraft Dungeons – Standard Edition will be available for $19.99 USD.

Minecraft Dungeons – Hero Edition will also be available for $29.99 USD. This includes a Hero Cape, two player skins, and a chicken pet. It also includes two DLC packs, when they become available.

In addition, Minecraft Dungeons will come to Xbox Game Pass at launch for PC and Xbox One. After launch, there are many free updates planned for the game.

I WANT TO BE A PART OF THE MINECRAFT DUNGEONS COMMUNITY, WHERE CAN I FIND YOU AT?

You can be a part of the Minecraft Dungeons community by finding us on the official Minecraft Dungeons Discord at discord.gg/MinecraftDungeons and following us on Twitter @dungeonsgame.

GAMEPLAY INFO

HOW DOES COMBAT WORK?

Combat in Minecraft Dungeons takes place in real-time and places an emphasis on weapons, gear, and enchantments. We were very careful in tuning items in the game to accommodate unique fighting styles, with this flexibility being especially rewarding in co-op multiplayer. A wide variety of weapons can be customized with unique enchantments that are an asset in battle.

CAN CHARACTERS BE CUSTOMIZED?

There are no character classes in Minecraft Dungeons – your power and abilities are based entirely on what you have equipped at any given moment. Players are also able to select their appearance from a diverse range of skins.

ARE THERE NEW MOBS IN MINECRAFT DUNGEONS?

There are a variety of brand-new mobs that are part of the Minecraft Dungeons narrative. The Key Golem is a cute little critter that helps open locked doors while making funny noises, that are sure to delight. Those visiting the Fiery Forge will encounter the epic boss-like Redstone Monstrosity. There are many more unrevealed mobs to discover, in addition to a lot of mobs you already know and love like Creepers and Endermen.

DO MISSIONS CHANGE FROM ONE GAME TO THE NEXT?

Yes! Each mission in Minecraft Dungeons is a mix of procedural content and carefully crafted elements that tie into the mission's objectives and narrative. In other words, while parts of the mission stay the same, the paths, mobs and treasure you find will be different every time you play it.

IS THERE ANYTHING TO DO AFTER BEATING THE GAME?

With its randomly generated levels and a plethora of items to equip, we've strived to create an experience that players will continue to come back to time and time again. Players can team up and return to levels at higher difficulties to uncover new items and rewards, with more surprises coming post-launch.

IS THERE MOD SUPPORT?

There are currently no plans for mod support.

WILL THERE BE ONLINE MATCHMAKING?

No. Minecraft Dungeons is designed to be played together with your friends – either on a comfy couch or in a comfy online session.
Leave a Reply