Minecraft Dungeons second anniversary event, 1.15.0.0 update out now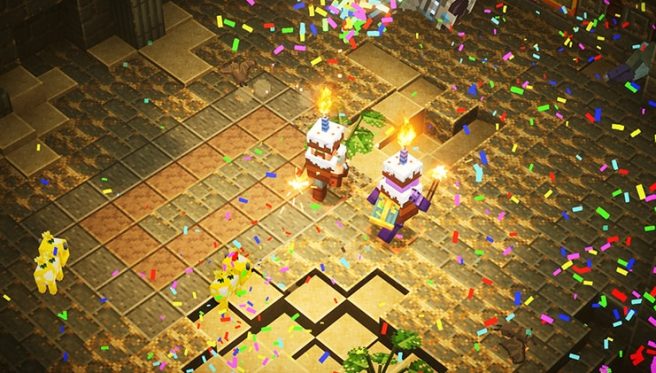 Minecraft Dungeons has just kicked off its second anniversary event and has released a new version 1.15.0.0 update.
After installing the patch, players can partake in the party. The event, which ends on June 15, offers seasonal trials to collect both gear and the elegant anniversary cape. A special tower challenge can also be cleared to earn the baby moobloom pet.
Here's a trailer:
As for the new 1.15.0.0 update for Minecraft Dungeons, we have those patch notes below.
Changes and Fixes:

Performance and Stability

Improved stability on Nintendo Switch, especially when player 4-player co-op
Fixed a crash on the Adventure Hub that could occur when alternating between pages using gamepad triggers
Improved performance when interacting with a merchant for the first time after entering the Camp (MCD-7044)
Fixed a crash that could occur when buying armors from Luxury Merchant or Village Merchant while using a gamepad
Fixed a crash that could occur when attempting to resume a suspended Tower run while disconnected from Minecraft services
Fixed a crash that could occur when playing as a client in online co-op and picking up TNT created by Looting or Tome of Duplication
Fixed a crash that could occur when using gamepad with mouse and keyboard on the Tower floor reward screen
Fixed a crash that could occur when failing a Tower run
Optimized several areas on Desert Temple Tower tiles to improve frame rate

Gameplay

Wildfire Changes:

Removed Wildfire passive regeneration
Set the initial shield to regenerate after 6 seconds without incoming damage
Set shields after to regenerate after 5 seconds
Regeneration from fire reduced by 30%
A sound effect now plays when a layer of the Wildfire's shield is regenerated

Ranged mobs affected by Love Medallion now receive the boosted damage effect
Closing the game on the Tower reward screen no longer makes the Camp go dark or cause a partial loss of gamepad input
Items like Climbing Gear and Dense Brew now apply the proper resistance to wind
Pressing the Teleport button while attacking no longer makes the player repeatedly attack
Fixed low-level enchantments like Poison Cloud to properly display poison damage
Improved Tower Guard visuals so it's clearer that their shields have Deflect enchantment

Achievements

The 'End Run' achievement can now be unlocked when using 'The Starless Night' melee weapon
Fixed the 'Fashionable Climber' achievement not unlocking upon meeting its requirements
Fixed guest players in local co-op incorrectly affecting progress towards a number of achievements:

Back From Whence You Came
Piglin's Best Friend
Goal Driven
Bad Omen, Good Loot

Fixed the 'Daily Destroyer' achievement unlocking after completing only two of the three required Daily Trials

The Tower

It is no longer possible to bypass the floor reward screen without claiming a reward
Fixed up several Tower floors to prevent skipping areas
Fixed an exploit that could cause Tower floors to be skipped after dying during a boss fight (MCD-7055)
Fixed several input issues that allowed players to get multiple rewards on each Tower floor (MCD-6912)
Removed several invisibles obstacle on the stairs leading to the exit door on multiple Tower floor
Fixed balcony walls not having arrow collisions on several floors
Fixed an invisible object that broke player pathfinding on a Tower floor
Removed an invisible wall near some wind stuff on a Tower floor
TNT can no longer be thrown on the reward selection screen
Fixed an issue that caused players to gain additional enchantment points and skip the floor counter (MCD-7173)
The Tower completed screen button text has been changed from "COLLECT" to "CLAIM"
Toned down the explosion effect when suspending a Tower run
Made it easier to navigate equipped artifacts on the Tower reward select screen when using a gamepad
Fixed missing item descriptions for Tower rewards
Fixed a Tower floor that could launch players onto an invisible ceiling after falling into a freezing lake
Fixed door positions on multiple Tower floors

Missions

Ancient Hunt: Fixed missing terrain in Spider Cave that halted progression through the mission (MCD-7110)
Ancient Hunt: Fixed several gaps that allowed players to reach unplayable areas
Creeper Woods: Fixed a gap that allowed players to reach unplayable areas
Creepy Crypt: Fixed the gate animation repeating when walking in and out of the render distance
Soggy Swamp: Fixed an area that players could get stuck in after falling in
Pumpkin Pastures: Fixed an area that caused players to spawn inside the door after falling off a ledge
Redstone Mines: Fixed several missing textures
Fiery Forge: Fixed missing arrow collisions
Cacti Canyon: Fixed a gap that allowed players to reach unplayable areas
Desert Temple: Fixed several gaps that allowed players to reach unplayable areas
Desert Temple: Fixed the minimap not showing an accurate representation of the mission in several places
Highblock Halls: Fixed a gap that allowed players to reach unplayable areas
Underhalls: Fixed a gap that allowed players to reach unplayable areas
Gauntlet of Gales: Fixed an area that caused the player's view to be obstructed
Nether Fortress: Fixed several areas that players could get stuck in after falling in (MCD-6624)
Nether Fortress: Fixed several gaps that allowed players to reach unplayable areas
Soul Sand Valley: Fixed several gaps that allowed players to reach unplayable areas
Coral Rise: Fixed several missing textures and clipping issues
Coral Rise: Fixed part of the arena gate still being visible after it's lowered
Radiant Ravine: Fixed the minimap not showing an accurate representation of the mission in several places
Radiant Ravine: Fixed several areas affecting arrow collisions
Radiant Ravine: Fixed an area that caused the player to appear as a silhouette even when not obscured by terrain
Radiant Ravine: Fixed several areas that players could see out of bounds
Abyssal Monument: Fixed several clipping issues and floating blocks
Abyssal Monument: Fixed an area that players could see out of bounds
End Wilds: Fixed several clipping issues

Localization

Fixed incorrect translations of Tempo Theft's tier descriptions in German language (MCD-6032)
Fixed incorrect translation of Electrified enchantment's description in German language (MCD-6416)
Fixed incorrection translation of Shock Web enchantment description in Italian language (MCD-6484)
Fixed incorrection translation of the Tower's respawn message in Italian language (MCD-6983)
Fixed incorrect translations of "The End" and "Lightning Rod" in Japanese language (MCD-6380)
Placeholder elements are no longer visible in the 'Add Friend' text input box for Korean language
Fixed the Season Rank text alignment on the Adventure Hub in Portugal (Portuguese) language

User Interface

Fixed the Mystery Banner prompt so it's clearer that players must hold a button to pick up
The "new" marker will now appear on the Cosmetics tab of the Inventory for new cosmetic items that haven't been looked at
The game no longer locks up on the Tower Failed screen after opening the map on the reward selection screen
The cursor can now move horizontally between Storage Chest and Inventory if any of the rows on either side are empty
Quickly transferring items between the Storage Chest and Inventory no longer causes the screen to jump a bit
'Weekly challenge complete' toast notifications are now localized for all supported languages
The 'Complete Seasonal Trials' counter no longer overlaps the frame of the designated area
The Adventure Hub now shows the correct button prompts when playing with a single Joy-Con on Nintendo Switch
Keyboard button prompts are now shown on the Adventure Hub for changing between Seasonal Adventures
Rewards can now be always navigated using arrow keys when viewing the Adventure Hub
The mission select screen and inventory screen can no longer be opened while viewing the Adventure Hub or Settings
Fixed the left and right thumbsticks being referred to incorrectly on the Controller Mapping screen
The game now shows a more informative error message when accepting a multiplayer invite and multiplayer privileges are blocked
Fixed the screen reader not reading Trial modifiers when selected on the mission selection screen
Fixed an inconsistent button prompt when transferring items between the Storage Chest and Inventory
The game now displays an error message if disconnected from Xbox services
The screen reader now properly reads out available inputs on the Adventure Hub
The screen reader now properly reads out which season the player is viewing and which can be navigated to on the Adventure Hub
Icons for enchantment points, enchantments, weapon, and power levels now have consistent sizes on the Tower floor reward screen

Known Issues:

The following is an issue that the development team is aware of and will be working to resolve in an upcoming update:

In the Tower, Slimes spawned by Corrupted Cauldron remain alive when the player loses one life and respawns
Leave a Reply