Minecraft: New 3DS Edition details – local multiplayer to be added later, made by Other Ocean, more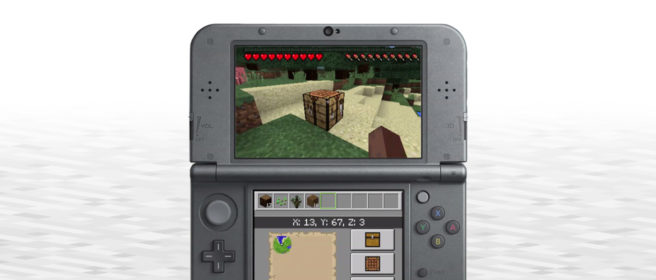 More details about Minecraft: New 3DS Edition are in from the official website as well as a listing on Nintendo's page.
First up, the official announcement:
Just a few months after we brought Minecraft to Nintendo Switch, we're double-dipping with the big N to bring the game to New Nintendo 3DS. Whatever next, an N64 port? Get on it, Jens!

We want to stress that the game is only on New Nintendo 3DS, and we've used all the technical might of the dual-screened wonder machine to give you world sizes of 2016×2016 and 128 blocks high – that's even larger than the worlds on the Wii U version! Multiplayer won't be available at launch but we will be adding local multiplayer in a future update. This edition's closest equivalent is 0.15.4 of Minecraft: Pocket Edition, and we'll be continuing to update from there!

That dual screen setup helps make crafting easier than ever, with quicker access to your inventory and a handy map on the touch screen, perfect for charting out your worlds. Take a scroll through some screenshots below:

We've also bundled five skin packs and two texture packs with this version of the game. Which ones, you ask? Well why not head over to the Nintendo 3DS eShop and find out? As it's available right now in America (And in Europe very very soon!) Happy crafting!
Nintendo's website also has the following:
Minecraft is a game about placing blocks and going on adventures.

Only playable on the New Nintendo 3DS series.

Explore randomly‐generated worlds and build amazing things from the simplest of homes to the grandest of castles. Play in Creative Mode with unlimited resources or mine deep into the world in survival mode, crafting weapons and armor to fend off the dangerous mobs.

Create and explore your very own world where the only limit is what you can imagine.
Includes five skin packs and two texture packs to customize your gameplay!
Use the touch screen to check your map or manage your inventory!

Platform New Nintendo 3DS systems only
Release Date Sep 13, 2017
No. of Players 1 player
Category Action, Adventure, Simulation, Strategy
PublisherMojang AB
DeveloperOther Ocean Interactive
Leave a Reply