Minecraft reveals Dungeons & Dragons collaboration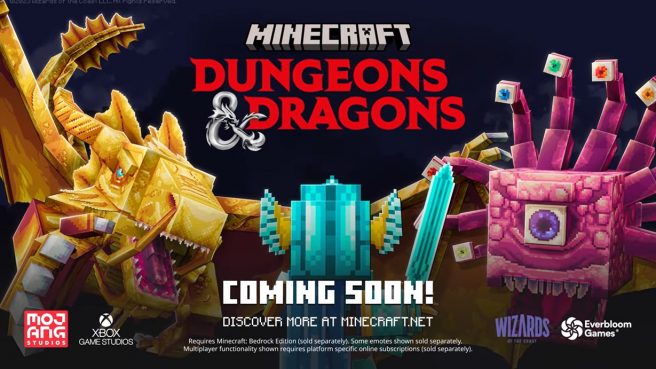 Minecraft has another collaboration in the pipeline, as it was revealed today that the game is crossing over with Dungeons & Dragons. The announcement was made during a D&D Direct presentation a few minutes ago.
The Dungeons & Dragons DLC will let players explore the Forgotten Realms as classic D&D character classes. Monsters like beholders, mimics, mindflayers, and gelatinous cubes are in as well. Some classic locations have been recreated, including Icewind Dale and Candlekeep, battling Beholders, Mimics, and more.
It sounds like this is pretty meaty DLC, as it'll take players about ten hours to get through it the first time. There's also a story focus in which players begin by choosing their character classes and stats. It'll be possible to role-play as a paladin, barbarian, wizard, or rogue. That's along with a custom combat system featuring skills such as the rogue's backstab and the ability to equip gear that affects character stats.
Here's a trailer for the Minecraft Dungeons & Dragons collaboration DLC:
Minecraft is available on Switch right now. We're waiting on an exact release date for the Dungeons & Dragons DLC, but it's on track for this spring. We'll report back once we have news regarding more specific timing.
Leave a Reply