Minecraft: Wii U Edition adds Chinese Mythology Mash-Up Pack on October 4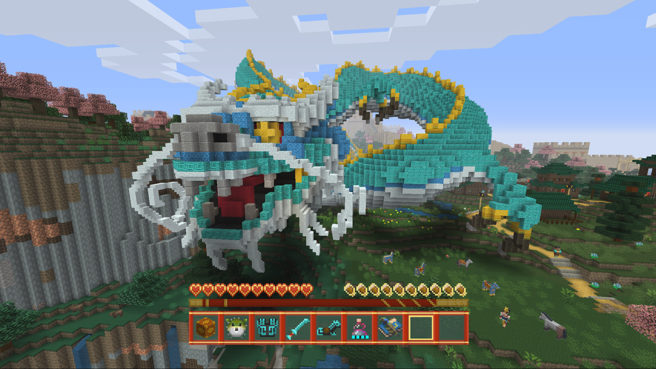 At Minecon 2016, new DLC was revealed for the console versions of Minecraft. All platforms – including Wii U – will be receiving a new Chinese Mythology Mash-Up Pack.
Players can expect the following from the DLC:
"In the new Minecraft: Console Edition Chinese Mythology Mash-Up, come explore ancient temples hidden among the cherry blossoms and survive the night at the Great Wall. In this new mash-up, you will be able to visit an exquisitely created pre-made world. Wander through the streets of an ancient great city, marvel at the dragons that dwell around the high mountains, contemplate on your crafting within a mythical monastery and just enjoy the view as you walk through fields and discover how mobs would look in ancient China. This mash-up also brings you 41 new skins to choose from and 13 themed music tracks for your worlds made using this pack."
The Chinese Mythology Mash-up also packs in a special map for use in the Battle mini game.
View a trailer for the DLC in Minecraft: Wii U Edition below. Head past the break for a rundown of other features included in the upcoming update.
Update features
Polar bears and their adorable offspring are to be found wandering frozen biomes.
Banners! Spruce the place up with your personalised drapery.
New terrain generation: Igloos now appear in Arctic biomes, and gargantuan fossils lie beneath the earth awaiting your discovery.
Beetroots! You can farm them and turn them into a restorative soup. Delish!
Other new blocks: End Bricks, Grass Path, Frosted Ice, Magma, Nether Wart Block, Red Nether Brick and Bone Block.
Leave a Reply