Miracle Snack Shop gameplay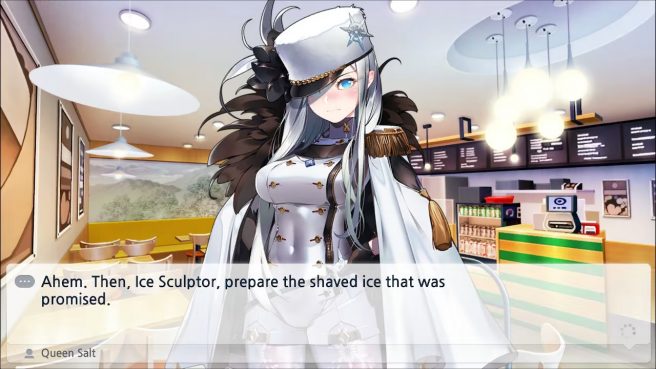 Gameplay has arrived for Miracle Snack Shop, CFK's upcoming visual novel for Switch. CFK will have it ready to go in a couple of weeks.
Here's some information about Miracle Snack Shop from CFK:
A dating simulation developed by artisan visual novel maker Talesshop, Miracle Snack Shop will have its second release on Nintendo Switch, bringing various new features such as Japanese voice over.

Colorful stories happening in the ordinary snack shop

First released on Steam, Miracle Snack Shop has received praise from visual novel fans for its beautiful art and dramatic story that sets place in an ordinary and quiet snack shop.

In the game the player becomes Seolhwa Cha, the protagonist, who happens to run a snack shop after going through adversities in life. After meeting Philia, the queen from another world, and Mira, a YouTuber looking for scoops, Seolhwa finds himself in the middle of colorful happenings with the two heroines.

Love and success: catch two birds with one stone

For 302 days, the player will run the business and build relationships with Philia and Mira. While their favorability can be earned by spending time together in various events, the player will need to secure some in-game budget as some episodes require money to unlock.

The snack shop will grow into a neighborhood hotspot as the player raises Seolhwa's cooking skill by inventing new shaved ice, and fame through various marketing activities. And watch how Philia and Mira react to your new shaved ice after sampling it; this will add more fun to the gameplay.

After having a busy week, spend time together with Philia or Mira in places such as downtown, movie theater, and amusement park. As the relationship grows deep, there may be a chance to hear their personal stories. The player can see different endings based on how much they have earned through business, and how close they have become with a heroine.
You can see the gameplay for Miracle Snack Shop in the video below.
Miracle Snack Shop is due out for Switch on December 2 as an eShop download. It'll have English, Japanese, and Korean language options.
Leave a Reply