Monark official details and debut trailer, English support on the way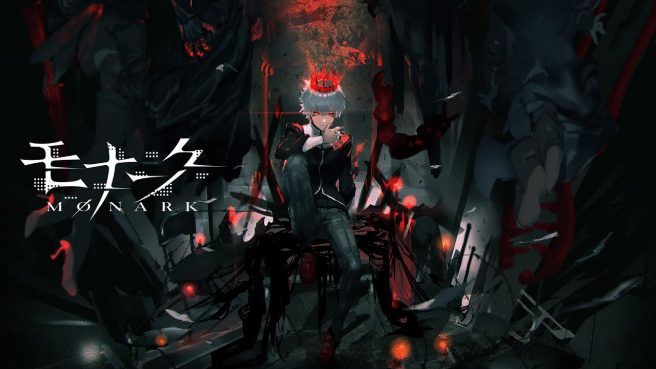 We've got more news on Monark, the upcoming Switch RPG from former Shin Megami Tensei staff. Clouded Leopard Entertainment has announced that it is handling the release of Traditional Chinese, Simplified Chinese, and Korean versions. The game will launch in Japan and Asia on October 14.
Here's an official rundown of details, along with the debut trailer:
Story

You suddenly awaken in Shin Mikado Academy. Before you is a barrier separating the campus from the rest of the outside world.

Within the academy grounds are the madness-inducing Mist, cryptic phone calls that connect to the Otherworld, and seven Pactbearers–each with their own Daemonic power ruled by their Egos.

To resist the irrationality surrounding you, you acquire the Authority of Vanity, a Daemonic power that subsists off of your Ego and madness. You and your four companions then establish the True Student Council, with you as their vice president. Together, you fight to return the academy back to normality.

Features

At Shin Mikado Academy, you'll befriend and fight alongside four companions who will lead you to four separate destinies.

Whose hand will you ultimately take? Where will their paths lead you?

How will these four fates converge?

Only you, the master of your own destiny, can find out.

Wield your madness to your advantage: Activating your Authority grants you power in exchange for raising your MAD Gauge. When your MAD Gauge reaches max, you enter a state of Madness, causing you to attack enemies and allies alike for several turns before self-destructing. Controlling the madness effectively can help turn the tide in battle.

Fight back against the Daemonic forces: Control up to six characters in a turn-based, free movement battle system. Attack enemies from behind and resonate with surrounding allies to perform combo attacks. Situational awareness and calculated decision-making are the keys to victory.

Explore an academy thrown into disarray: Within the Mist are phone calls that connect you to the Otherworld. You must explore every inch of the Mist to resolve the mysterious anomalies plaguing the academy.

Seven axis points map out your desires: Pride, Wrath, Envy, Lust, Greed, Gluttony, Sloth. Your affinity for each will change according to how you answer the diagnostic tests you are given throughout the story. How your Ego develops rests upon your own desires.

Fiends: Reflections of Your Ego
Fiends are Daemons that answer only to you. Different types can be unlocked for each of your seven desires. Strengthening your Ego increases the range of cosmetic customization options for your Fiends, as well as how much their equipment can be enhanced.

Key Staff

Character Design: so-bin
Scenario Writer: Fuyuki Hayashi / Ryutaro Ito
Scenario Supervision & Collaboration: Kazunari Suzuki / Aya Nishitani BGM: Tsukasa Masuko
Developer: LANCARSE Ltd.
Theme Song / Insert songs: KAMITSUBAKI RECORD
There's good news for overseas fans of Monark. According to Clouded Leopard Entertainment, English audio and subtitles are planned for the game. This will be added in a future free update. That also bodes well for a release in the west.
Source: Clouded Leopard Entertainment PR
Leave a Reply