Monster Hunter Rise artist on game's illustration themes, keeping legibility in mind for Switch handheld mode, more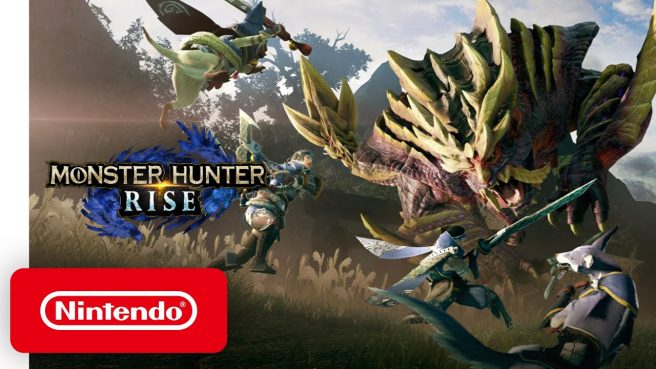 Capcom recently published an interview with the illustrator behind Monster Hunter Rise, Inouchi-san. He discussed some of the themes that were considered for the game's art, keeping legibility in mind in handheld mode, and more.
Here's the full discussion:
First, would you mind introducing yourself? What did you work on for Monster Hunter Rise?

I made the ink-like illustrations, and some decorations for Kamura Village.

What kind of image and themes did you have in mind for the illustrations in Monster Hunter Rise?

The biggest themes were "ink" and "dyed fabric."

– Monster Icons
The in-game lore is that Guild Master Hojo draws all of the monster sketches used on the quest notices, so I made them look a bit soft, with swift brush strokes. I can imagine he had to draw them in a hurry while they were charging at him.

– Kamura Decorations
I made these in the image of a dyed fabric style called "Katazome."
(A dyeing method where you use a small blade to cut a figure out of thick paper and then dye it.)

I included some imagery of the village itself, the "castle town" style look, the steelworks, and of course ninjas… There's a lot of strong motifs, even for this series, and I gave everything a heavy, sharp look.

Are there any points about the in-game illustrations that you were very particular about, or put extra care into? For instance, the Nintendo Switch can be played either in handheld mode or on a TV, so did you give any extra consideration to the fact that players will be playing this game on a variety of screen sizes?

When designing the UI, I made sure to keep legibility in mind in handheld mode. The chat stickers, for instance, are on the small side with a relatively large transparent area so that they don't get in the way when you interact with monsters.

At the same time, I wanted to have enough variation in the layout and keep everything tidy, so I paid special attention to the size and coloring of the characters as well.

And when you look at the village map, this is actually the only instance where you can see the village in its entirety on one screen, so I focused on conveying the atmosphere more than anything else.

What kind of software and equipment do you use?

I use Photoshop and a graphics tablet.

A lot of fans have been posting illustrations of Monster Hunter Rise on social media, like Twitter and Instagram. Did you see anything you thought was particularly cool?

I can't think of anything particular off the top of my head, but I do remember being deeply impressed with the response to our first trailer. Some fans had illustrations ready as soon as the next morning, and it was great to see how excited everyone was about the new Canyne companion, and how much they liked the characters. It reminded me of how excited I was myself when I got assigned to this team.

As I was going around to look at people's reactions, I also found out about accounts that tweet out monsters' thoughts, and that was very lovely as well.
Capcom previously shared an interview with Monster Hunter Rise sound director Kosuke Tanaka and lead composer Satoshi Hori. In that interview, they commented on the game's sound and music, why the hunters talk this time, and more. For those that missed it, you can check out that discussion here.
Monster Hunter Rise releases for Switch on March 26.
Leave a Reply