Monster Hunter Rise: Sunbreak gets release date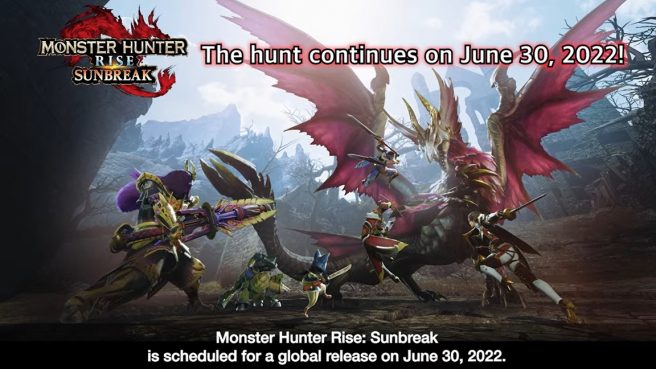 During an online presentation today, Capcom revealed the final release date for Monster Hunter Rise: Sunbreak. The expansion is set for release on June 30, 2022, the company announced.
The Citadel features various environments such as lush forests and icy mountains. There are various forms of life here including Morphed Wirebugs and Marionette Spiders. Dangerous monsters also appear, including the Fanged Beast Garangolm, Fanged Wyvern Lunagaron, Blood Orange Bishaten, and Flying Wyvern Astalos.
As for the story, Sunbreak kicks off with the sudden appearance of the Lunagaron at the Shrine Ruins. Dame Fiorayne, a knight from a distant kingdom, appears and seeks aid in the investigation of a threat that faces her homeland. Players then head off for the Elgado Outpost. Elgado is a bustling port town with plenty of trade as well as a research facility to investigate monsters.
Command Post is where the base of operations will be, with research being taken up by Admiral Galleus, leader of Fiorayne and the other Royal Knights. Another new character is the quirky scientist Bahari, who is known to be a genius researcher while also being oblivious to the world around him. Chichae is Elgado's Quest Damsel, who will provide quests to players. Minayle the blacksmith, Oboro the merchant, and more will appear.
Capcom also published a new trailer for Monster Hunter Rise: Sunbreak today coinciding with the release date, which we have below.
Pre-orders for Monster Hunter Rise: Sunbreak starting on March 15, and those that put in a reservation will receive layered armor for their Palico ("Striped Cat Costume") and Palimute ("Loyal Dog Costume"). Capcom will also be offering a Deluxe Edition, and for brand new players, a Monster Hunter Rise + Sunbreak Set.
Leave a Reply