Monster Hunter Rise: Sunbreak sells over five million units worldwide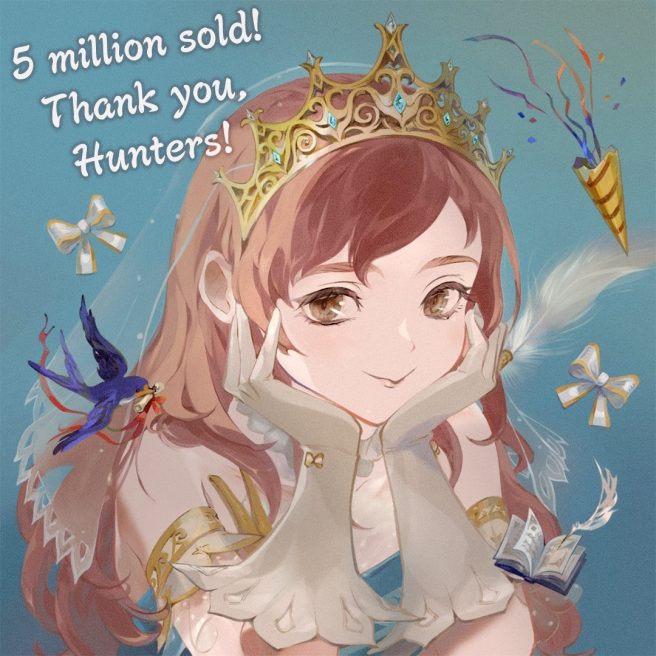 Original (1/18): Capcom has provided a sales update on Monster Hunter Rise: Sunbreak. Since launch, it has sold more than five million units worldwide. That information is based on combined sales of the Switch and PC versions.
Last July, at the start of the month, Capcom confirmed that Sunbreak was at two million copies sold. That number increased to three million about a week later. Then it jumped to four million in August.
Here's the full announcement:
Capcom Co., Ltd. (Capcom) today announced that Monster Hunter Rise: Sunbreak (Sunbreak, below), the massive premium expansion for Monster Hunter Rise (Rise, below), has sold 5 million units worldwide.

The Monster Hunter series consists of hunting action games that pit players against giant monsters in beautiful natural environments. Beginning with the first title in 2004, the series established a new genre in which players cooperate to hunt ferocious monsters with their friends and has since grown into a global phenomenon with cumulative sales of the series exceeding 88 million units shipped as of September 30, 2022.

Sunbreak is a massive premium expansion for Rise and was released in June 2022. In addition to garnering acclaim for its new locales, monsters and never-before-experienced hunting actions, Sunbreak was further supported with ongoing free title updates and strategic pricing, which contributed to favorable sales growth, driving global sales of the title to over 5 million units.

Capcom remains firmly committed to satisfying the expectations of all game players by leveraging its industry-leading game development capabilities.
Monster Hunter Rise first appeared on Switch in March 2021. Sunbreak, which is the game's big expansion, followed in June 2022.
Capcom says it'll be celebrating the latest Monster Hunter Rise: Sunbreak sales milestone with a commemorative in-game item pack. We should have more details very soon.
---
Update (1/21): Capcom has released the Elgado Pack 5 for the sales milestone, which includes Ancient Potion x10, Mega Barrel Bomb x10, Dango Ticket x10, HA.Sphere x10, and Platinum Egg x1. Claim it by visiting the courier.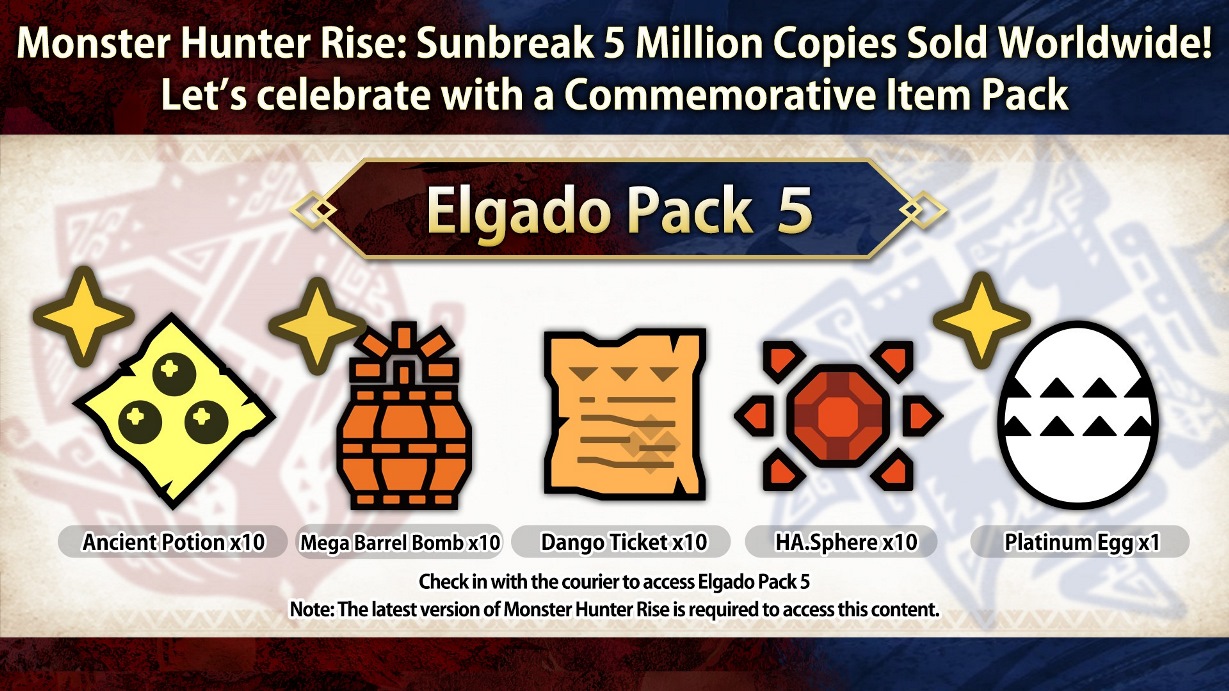 Leave a Reply