Monster Hunter Rise: Sunbreak second free update out on September 29, trailer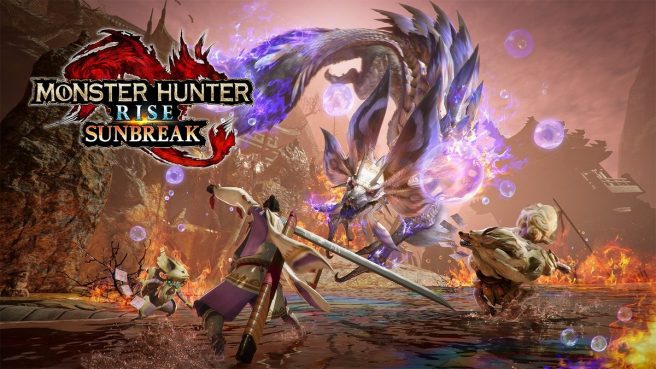 At the 2022 Tokyo Game Show today, Capcom announced a release date for the Monster Hunter Rise: Sunbreak free Title Update 2. All players can access it starting on September 29, 2022.
The update includes Flaming Espinas, Violet Mizutsune, Risen Chameleos, Layered Weapons, level 120 investigations, and Qurious crafting options.
The previously announced return of Flaming Espinas from Monster Hunter Frontier sets the stage for another blazing beast's reveal: Violet Mizutsune. This creature's alluring bubbles are actually filled with a highly combustible gas that can turn any graceful movement into an inferno of white-hot flame. Finally, an Elder Dragon capable of overcoming the affliction has been sighted. Risen Chameleos has managed to achieve symbiosis with the Qurio, and through this diabolical union has gained incredible power and even more devious attacks. Hunters bold enough to challenge these overwhelming foes will receive materials for crafting new weapons and armor complete with new skills.

Additionally, a new tier of Anomaly Quests will be added, and will include challenging targets like Gore Magala and Espinas. Anomaly Investigations are also being expanded, with an increased level cap of 120, and new afflicted materials. Hunters crafty enough to survive the challenge will be able to unlock new options for Qurious Crafting, including added Anomaly Slots and other new upgrades for weapons. Fashion Hunters also have reason to rejoice, as Title Update 2 will introduce layered weapons. This system enables hunters to change the appearance of their weapon to combine their favorite stats and designs. Finally, this update also includes new paid DLC such as the Master Arlow layered armor set, layered weapons, gestures, poses, hairstyles, and more.

New Event Quests will continue to arrive every week, and A-List Hunters eager for even more challenges can look forward to future title updates, as new monsters and more are just around the corner with Title Update 3 launching in late November.
View the free Title Update 2 trailer for Monster Hunter Rise: Sunbreak below.
Leave a Reply