[Interview] Natsume on how Harvest Moon: Mad Dash came to be, new indie program, possibility of revisiting older IPs, more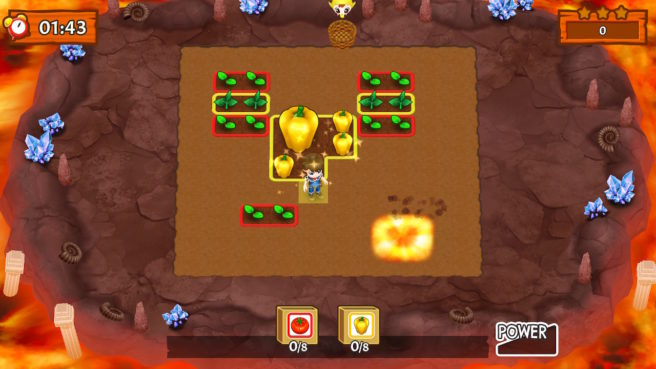 At E3 2019, we had a chance to speak with Natsume producer Taka Maekawa. We talked Harvest Moon: Mad Dash and how it came to be, the company's new indie program, the possibility of revisiting more classic IPs similar to what was done with Wild Guns Reloaded, and more. Oh, and we snuck in a question about Medabots as well.
Here's our full discussion:
What was the inspiration behind Harvest Moon: Mad Dash? Why did the team go with making a spinoff as opposed to a new, core entry?

Last year my boss told me, since we released Light of Hope, he wanted to test the possibility of taking Harvest Moon in different directions – like a spinoff. Like Mario – Mario Kart, Dr. Mario – those things. He wanted to test the possibility of Harvest Moon, so that was probably the initial idea that made me think about it. Then I started to think about, "Okay, what kind of spinoff can I do? I can do racing, horse racing, anything." But when I thought about it, since Switch has two Joy-Con and lots of multiplayer co-op games were coming out, I thought that should be the direction that I should go. So the game had to be multiplayer.

Also, Harvest Moon as you know takes a long time to play. But how about doing the opposite – like just 3-5 minutes per play. Not only with yourself, but maybe with parents and friends. And that came to the idea of how about doing farming, taking care of animals, fishing – making that into a very compact mini-game. So that was the initial thought that came when I thought about it.

Although it's a spinoff, is the team looking at feedback in some of the recent Harvest Moon games and implementing any particular improvements for this title?

Yes. We had feedback like the crop designs – Light of Hope, other Harvest Moon titles had more realistic-looking crops. But for this one, we wanted to do something more cute – like deformed. That was I guess the main feedback we took from the users. We have lots of feedback we can use, but since this is a little bit different from the traditional Harvest Moon, here and there we used it.

Last year Natsume released Harvest Moon: Light of Hope. How did that game perform? Are you happy with how the game sold on Switch in particular?

We're very happy with the way it sold. We're glad that people – so I read lots of reviews, of course there are lots of critical reviews too, but I see lots of people saying that this has the Harvest Moon feel to it – story-wise, characters, charm. So I'm really happy with the sales and also the reviews too.

Harvest Moon is the main franchise Natsume is developing internally at this point. Are you interested in creating more games in-house?

Yes. And of course, these two – Harvest Moon and Reel Fishing – are our franchises. But of course, I'm thinking about new franchises too – like an original franchise. I still have that in mind, but haven't really convinced by boss yet. But I'm always looking for ideas.

You recently announced that Natsume Indie Program. How did that initiative come about?

This is kind of my boss' work, but Natsume has been in the industry for like 25 years – over 20 years. We have the know-how to grow the brand. In Harvest Moon, although it's a big name right now, 20 years before it was really a niche game. But we were able to grow that brand. So we were thinking, "How about we take that know-how to support indie developers?" Because there are lots of games outside. And truthfully speaking, you can self-publish right now. Any company can self-publish. But it's really hard to get those names out. So we thought, "How about we use our twenty years of experience of growing niche titles, and support those titles?" So that was the idea that first came about for the indie program. And that's when I started looking for games. So I went to BitSummit last year in Kyoto. That was when I found Cosmic Defenders.

Can you comment on any other developers you're working with on the program? Is there a total number you have partnered with? Are you still actively pursuing new developers and games to collaborate with, or are things pretty much settled for the time being?

Yeah, we're still looking for new developers to collaborate with. We have a few people on the list because I just went to BitSummit two weeks ago, and met lots of people with unique ideas. I'm in talks with them – not really deeply – but trying to start relations. But as of right now, we don't have any concrete titles other than Cosmic Defenders.

Wild Guns Reloaded is another game you launched on Switch. Does Natsume have any interest in working with that IP further, perhaps in the form of an entirely new Wild Guns title?

We don't have a concrete plan as of right now, but we are always open to the idea. I guess it's just about timing and when to do it.

Given the success of Wild Guns Reloaded, is Natsume interested in bringing back any other older IPs like Pocky & Rocky?

I'm always looking for those remakes too, but don't have a concrete schedule. As you know, those classic titles are really good, but at the same time have copyright issues, which is something that I don't know how to touch. So I'm hoping for ideas, but whether or not depends on the political stuff – like I drew that picture and this one, so I need to ask that person for rights.

Something our readers often ask about is Medabots. Natsume published some of those games in the west, but not so much in recent years. Is that franchise something Natsume is at all interested in still?

We are interested, but I guess Medabots' rights holder is not us – I guess Imagineer. So if there's a chance that we can talk or if there's any approach, maybe that might be a possibility.

What else would you like fans to know about Harvest Moon: Mad Dash or Natsume in general?

So at this year's E3, we're exhibiting Harvest Moon: Mad Dash, Reel Fishing, and Cosmic Defenders. These are all kind of like unique titles. Harvest Moon isn't a traditional Harvest Moon. It's more of a casual, farming puzzle action game that you can play with your friends which is a different twist that we never took before. Reel Fishing – this one is not only a fishing simulator, but it also has an RPG feeling to it. There's a level-up mechanic, or unlocking abilities, crafting, cooking, and those things. So it's a different twist that wasn't in the series in the past. And Cosmic Defenders as you know is a part of the indie program which is new to us, and we're so happy to do it. We would like anyone to just give it a try, or have interest in these titles.
Leave a Reply