Neptunia Game Maker R:Evolution for Switch coming west, plus My Next Life as a Villainess: All Routes Lead to Doom and Sympathy Kiss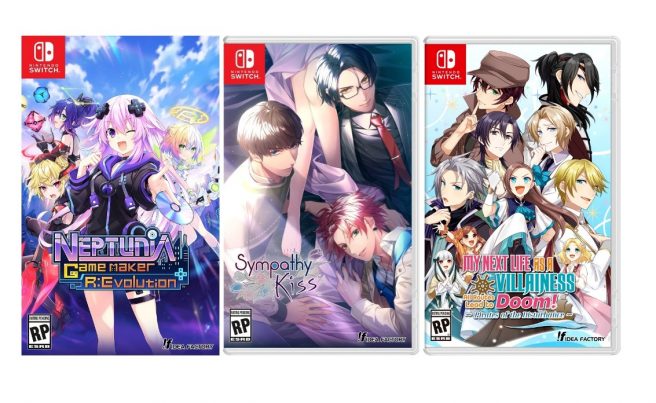 Idea Factory made a number of new announcements at Anime Expo 2023, highlighted by the Switch version of Neptunia Game Maker R:Evolution.
While Neptunia Game Maker R:Evolution was previously revealed for the platform, this is the first time we're hearing about localization. It will be available in 2024.
Also planned are My Next Life as a Villainess: All Routes Lead to Doom! – Pirates of the Disturbance (slated for Winter 2023) and Sympathy Kiss (planned for early 2024).
Here's an overview of each game as well as trailers:
Neptunia Game Maker R:Evolution

The latest installment of the Neptunia series has arrived! The goal of this game is to rebuild and manage a game company! Build your company and turn it into a huge corporation! This latest entry to the world of Neptunia is better than ever! The battle system has been expanded and now allows for a 4-person party, dungeons can be explored on a high-speed motorcycle, and the Heartful Photo Mode will let you express yourself via fun, manga-like creations!

Key Features

Game Studio of The Year – Play as the main protag, Older Nep, and grow a previously defunct gaming studio to success. Building a game studio requires strong developers, cutting-edge video games, and the expansion of your market. Choose wisely and become the biggest game studio of the year!
Build Games & Boost Your Party – Boost your party stats with the help of creating games in real-time and choose developers to work on your next hit game! Add other game elements found in dungeons and monsters to elevate your video game development and for further passive boosts to your party!
It's Time to Vroom, Vroom! – Ride in style through dungeons and sell your games on your trusty purple motorcycle! As you explore more dungeons and find game element items to add to your next breakthrough hit, you also gain more shares of that location.
Party Management 101 – Supervise a party of four to lead your company to the top! But there may be other game studios ready to take you down. With a revamped battle system, chained attacks, and transformative specials, Older Nep and friends are ready for victory!

My Next Life as a Villainess: All Routes Lead to Doom! – Pirates of the Disturbance

Based on the popular light novel, manga, and anime series, My Next Life as a Villainess: All Routes Lead to Doom! – Pirates of the Disturbance – arrives physically and digitally in North America and Europe for the Nintendo Switch™ this Winter—featuring two new characters: Rozy Lind and Silva!

Catarina Claes is a young woman born into a family of nobility who has a memory of her past life as a high school student. She was reincarnated as a Villainess in an otome game called Fortune Lover​. Exile or death were all that awaited her in this new world. However, she managed to evade these ends, and somehow made it through the year to spring break.

As fate would have it, both Catarina and her adopted brother, Keith, were to board a state-of-the-art luxury liner called the Vinculum on its maiden voyage during their time away from the Academy. Once aboard the ship, she realized her friends were also in attendance on what was meant to be a luxurious journey at sea.

The tides changed quickly when they were attacked by pirates who took over the Vinculum and held all of its passengers hostage.​ This turn of events all seemed familiar to Catarina, and she begins to recall this was the storyline to a Fortune Lover fanbook. Could this mean she's living in a resurrection of a canned doom ending?!​ Will Catarina and her friends be able to return to Sorcier safely? The curtain rises for a new twist in this ​doom-flag-evading romantic comedy!

Key Features

Uncharted Waters Ahead! – A new doom flag has risen in this all-new story set in the My Next Life as a Villainess universe! This original tale can be enjoyed by both longtime fans and newcomers alike.
Rascals, Scoundrels, Villains, and Knaves – Catarina isn't the only one who decided to take a cruise on the Vinculum. The full My Next Life as a Villainess crew is here. Featuring 6 romanceable shipmates, including 2 all-new characters!
A Voyage Down Memory Lane – As you progress through the story and fulfill certain conditions, you'll unlock special Memory Scenarios. These episodes will take place from the perspective of the other characters in the story. Experience events such as childhood memories and tales from academic life!
Batten Down the Hatches! – Along your journey, you'll sometimes face two paths before you. Time for a Strategy Meeting! Who better to ask for advice than… well, yourself! As seen in the light novel and anime, Catarina looks within to attend a meeting with five versions of herself—led by Chairman Catarina—to decide which route to take.

Sympathy Kiss

About a year has passed since Akari Amasawa started her new job as a designer at Estario, a mobile app maker. While she doesn't dislike her job, she's not deeply passionate about it either. After her yearly performance review, she's given the opportunity to join the Estarci team.

The company's namesake app, Estarci is a news app that made a big splash when it launched, but has since fallen behind rival apps, including apps run by Estario itself. Management has decided to give the app one last chance before shutting it down for good, and Akari and all of her new co-workers will need to give it their all to save the app from the chopping block.

Will Akari find true love? Will she find what it is she wants to do in life? Will the app get shut down? Wait, was Akari only given this opportunity because the company was looking for an excuse to fire her?!

Business and pleasure mix in Sympathy Kiss, a thrilling office romance and slice-of-life drama!

Key Features

POV: You Are A Modern-Day Office Worker in Japan – Explore your career opportunities and work with up to six love interests. See through the eyes of a Japanese career woman and experience full immersion in a contemporary workplace setting where the fantasy can be found in the breakroom.
Call or text if you need me! – Increase productivity, or dabble in some friendly office banter by maintaining contact with romanceable characters using the RiNG system. Respond to text messages and take fully-voiced calls from your favorite love interests.
Wear Your Emotions On Your Sleeve – Some decisions require you to express how you feel through the Emotion Select system. Pick from two of a total of five emotions: Happy, Angry, Troubled, Sad, and Indifferent. Your selected emotions can influence future conversations. Your love interests will always remember to consider your emotions.
A Happy Worker Is A Productive Worker! – Use the Love/Work system when making decisions to balance your work life and social life. Increase your Work Points or Love Points with each decision by choosing whether you will prioritize your career or romance. This will influence the outcome of your route and the ending.
Leave a Reply