More details on LEGO Super Mario and its creation, no Switch connectivity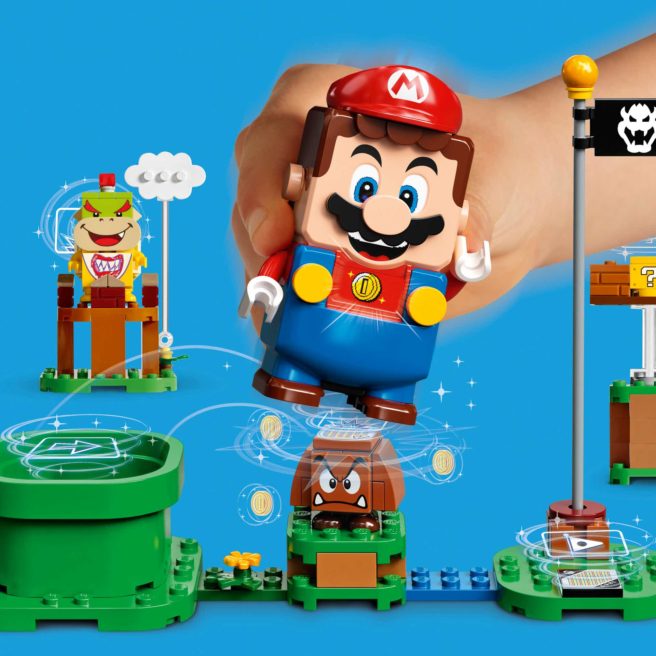 Right around the announcement of LEGO Super Mario, The Brothers Brick spoke with digital design lead Jonathan Bennink. Bennink shared additional details about how the whole thing works and the actual creation process.
Here's the roundup of tidbits:
– No word yet on other level packs released for different Mario games and themes as well as Super Mario sets at minifigure scale
– Mario uses an optical sensor
– LEGO collaborated with Nintendo on the technology as well as the play concept
– Mario has a display where his eyes, mouth, and belly screen are animated with game information
– This includes how many coins you get, how much time you have left, and the interactions that you have with the set
– Mario has a speaker so he can talk to you and play music at the same time
– Mario has a color sensor on the bottom between his feet so we can read a selection of the LEGO color palette
– Can add your own bricks in the levels that you make and get coins from that
– The main action rates come from scanning barcodes
– Those are pre-applied stickers that come on 2×2 tiles
– Mario reads those barcodes and then has a unique reaction to it
– LEGO Mario doesn't connect to the Switch or any Nintendo platforms
– Not thought of as a video game
– A lot of design thinking went into creating Mario
– LEGO worked very closely with the Nintendo IP team
– Nintendo was very specific about what colors they were able to use
– LEGO tried him with a LEGO yellow skin, but it just didn't look good on the figure
– And so they went for this hybrid mix between LEGO and Mario colors to get as close as possible to the IP character
– The video also shows that Mario's head comes off, and LEGO "will have some more exciting news to share on that in the future"
– Team wanted to make sure they don't set the figure at such a high price that nobody can afford it, so the size ultimately followed from what technology they needed to fit inside it
– They played around with some completely sculpted characters
– They tried a single injection-molded piece for a Goomba for instance, that's very round, or Bowser Jr. who is also very round
– They tried to find the right balance between technology and playability in terms of pricing
– The characters are brick-built to fit the square look of Mario
– There are also new 8×8, 6×6 and 4×4 square plates with rounded edges that are two plates high
– New decorations like the Bowser flag, Bowser Jr., and Koopaling
– Takashi Tezuka was the creative lead on Nintendo's side
– If you jump on the question mark block, you see the question marks rotate
– When you jump him off, that's when you get an item from the block
– Different things you can get, including a 10-coin bonus
– When you stomp on an enemy, you'll see an image and an accompanying sound
– Talking to Yoshi makes Mario happy so he has a little heart on his belly screen
– He has different phases that say "Hi!" or "Hey, it's me again!"
– Target age range is 6+
– LEGO tested a lot on this project in focus groups in the US, Germany, Japan, the UK and Denmark
– Original Mario prototype "was a little bit gimmicky like some of the other tech toys out there that are fun to play with for a few hours but wear off after"
LEGO Super Mario will be available later this year.
Leave a Reply