New Nintendo leak reveals original plans for Switch – early design, cut features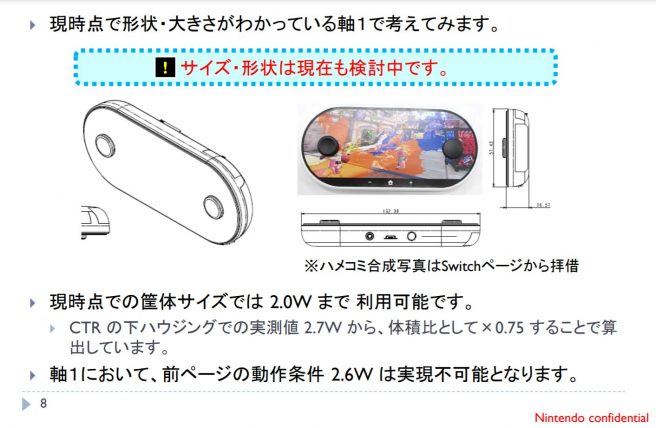 There have been lots of leaks from Nintendo's archives throughout 2020. They've provided interesting information about a few classics like Luigi in Super Mario 64, proposals for a portable GameCube with dock and a more powerful GameCube successor, cancelled Game Boy / Game Boy Color games, and more. 2020 is just about to end, but not before an additional Nintendo leak – this time for Switch.
The Switch leak covers documents from 2014, well before the system was finalized. Twitter users orcastraw and forestillusion shared some of the interesting findings. We're able to see an early design (above) and learn about cut features like 3DS backwards compatibility.
Here's the full roundup of tidbits:
– Switch name was decided on way back in 2014
– Nintendo's original Switch concept used an SoC from AT Ericcson
– This console was to support 3D video, and be backwards compatible with the 3DS seemingly
– StreetPass, SpotPass, and pedometer features planned like the 3DS
– It was not decided, but the final device would sport one, or two screens, likely one
– This screen would cap out at 480p (final Switch is 720p)
– This device would be able to broadcast video through Miracast
– That could mean this concept would be for a portable console that does not dock into a TV, instead displaying video to a TV wirelessly, while still having the unit usable, similar to the Wii U GamePad
– Switch powered by AT would support video capture, with the ability to add video/audio "commentary"; you could then upload it to "Nintendo World"
– Datasheet outlines functionality for video and voice "conferencing" while playing a game
– The ST Switch would have dedicated hardware to facilitate the 3DS backwards compatibility
– The ST Switch would have 1 gigabyte of RAM
– It also would support 480p video on the cameras
– It would possibly allow you to resume play from Sleep Mode by pressing a gesture, although this wasn't finalized, as the Sleep Mode section doesn't have an "OK" on it
As many folks know, the Switch turned out to be much different in the end. Nintendo ended up partnering with NVIDIA, and the features detailed above are pretty much absent. Some concepts clearly changed as we ended up with a system that is portable, but can also be easily docked and connected to a TV.
Leave a Reply