Nickelodeon All-Star Brawl 2 Garfield spotlight trailer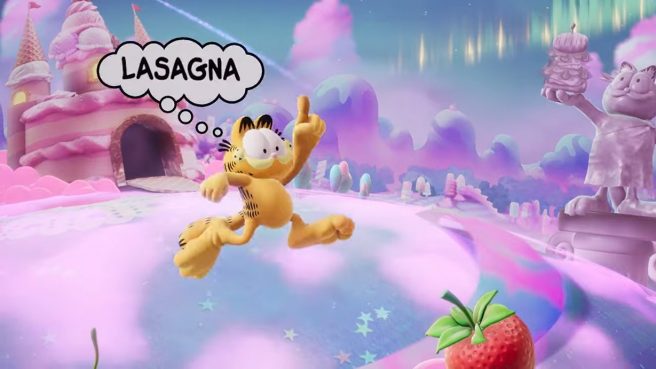 The character spotlights for Nickelodeon All-Star Brawl 2 continue on, and today's update brings us a look at Garfield.
Garfield is an all-rounder, but has slightly lower than average speed. A meter can be filled by picking up food that he throws. This meter, which can be used at any point, gives Garfield a Sugar Rush state in which he runs, jumps, and falls much faster. Garfield is good with combos and features powerful strong attacks, but the character can be outranged.
Here's some information about Nickelodeon All-Star Brawl 2:
Nickelodeon All-Star Brawl 2 lets you duke it out with the series' biggest and best fighting character roster yet, including all-new characters like Squidward Tentacles, Jimmy Neutron, and more to be announced. Choose your favorite brawlers, master their unique move sets, and use brand-new powerful Supers to land the finishing blow. Nickelodeon All-Star Brawl 2 will launch with its own single-player campaign featuring roguelike elements, voice acting for all playable characters, and full crossplay on all game systems.

Key Features

A Totally New Fighting Game Experience: Rebuilt and reimagined from the ground up, Nickelodeon All-Star Brawl 2 redefines what a Nickelodeon fighting game can be with new and revamped visuals, audio, animations, modes, stages, mechanics, taunts and move sets, competitively tuned for all levels of play.
New & Improved Brawlers: Nickelodeon All-Star Brawl 2's roster is bigger and better than ever, with even more variety in how each unique character plays. Battle with brand-new Nickelodeon fighters, as well as returning fan favorites!
Hit Hard With Supers: Power up your fighters with incredible new Supers, which can deal devastating blows to opponents.
Single-Player Campaign: Nickelodeon All-Star Brawl 2 will launch with a unique campaign featuring roguelike elements. Put your skills to the test as you fight to stop Danny Phantom archvillain Vlad Plasmius from taking over the Nickelodeon universe!
Voice Acting for All Playable Characters: Feel the energy and excitement of every attack with a fully voiced cast of fighters, including the talents of Tom Kenny (SpongeBob SquarePants) and Bill Fagerbakke (SpongeBob SquarePants).
Minigame Mayhem: Nickelodeon All-Star Brawl 2 introduces all-new minigames to play alone or with friends. Compete for global leaderboard high scores in Pinch the Blimps, Whack-a-Bot, and Irken Armada Bootcamp Survival.
Full Cross-Platform Play: Battle it out with up to four players on any platform with seamless crossplay, utilizing enhanced netcode for consoles and PC.
Check out the new Nickelodeon All-Star Brawl 2 spotlight trailer for Garfield below.
Official Garfield Spotlight
Nickelodeon All-Star Brawl 2 launches for Switch later this year. We have a character spotlight for SpongeBob here, Squidward here, Jimmy Neutron here, Patrick Star here, Raphael here, El Tigre here, Plankton here, April O'Neil here, Donatello here, Aang here, and Ren & Stimpy here, Nigel Thornberry here, and Grandma Gertie here.
Leave a Reply