Nickelodeon All-Star Brawl video highlights Helga Pataki moveset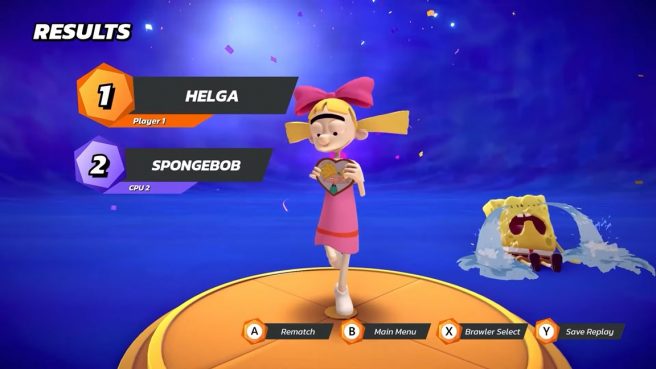 GameMill, Ludosity, and Fair Play Labs are continuing on with their character showcases in Nickelodeon All-Star Brawl, and have now shown off Helga Pataki from Hey Arnold.
If you plan on using Helga, note that she'll be able to use the following moves: Light Neutral "Shove It!", Light Up "Smasher", Light Down "Perfect Catch", Light Neutral Kick "Straight Kick", Light Up Air "Backhand Slap", Left Down Air "Double Heel Kick", Light Dash Attack "Hockey Tackle", Strong Neutral "Love Poem", Strong Up "Kicking Dust", Strong Down "Lunch Time", Strong Neutral Air "Locket Sock It", Strong Up Air "Curse You!", Strong Down Air "Volleyball Spike", Strong Dash "Boxing Swing", Neutral Special "Golden Magic Slingshot", Up Special "Approaching Uppercut", and Down Special "Homerun".
Of course, the Hey Arnold representation in Nickelodeon All-Star Brawl wouldn't be complete without a signature stage. In the Traffic Jam level, the medium-sized stage has no platforms. However, you can stand on cars and the bus.
You can take a closer look at Helga Patakai and her moveset in Nickelodeon All-Star Brawl below.
You'll be able to try out Nickelodeon All-Star Brawl for yourself when the game launches for Switch on October 5. You can check out the official website here.
Leave a Reply