Nickelodeon All-Star Brawl video highlights Michelangelo moveset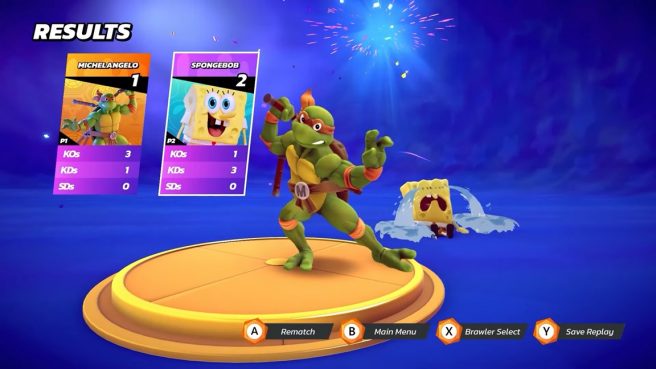 Yet another character showcase has arrived for Nickelodeon All-Star Brawl, with Michelangelo from the Teentage Mutant Ninja Turtles now getting the spotlight. The video also has a little bit of insight from the development team.
Michelangelo will have the following moves at his disposal: Light Neutral "Nunchuck Strike", Light Up "Fist Bump", Light Down "Air Guitar", Light Neutral Air "Shielding Strike", Light Up Air "Helicopter Strike", Light Down Air "Snapback Strike", Light Dash Attack "Skateboard Ram", Strong Neutral "Wild Swings", Strong Up "Handstand Kick", Strong Down "Split Slam", Strong Neutral Air "Dual Strike", Strong Up Air "Sweeping Kick", Strong Down Air "Aerial Split Slam", Strong Dash Attack "Rear Tackle", Neutral Special "Wanna Pizza this?", Up Special "Turtle Line", and Down Special "Party Dude".
The signature stage for Michelangelo is the Technodrome. It's a medium-sized level with three platforms that move up and down. You'll also notice a small character cameo in the background.
For a look at the full showcase video for Michelangelo in Nickelodeon All-Star Brawl, continue on below.
Nickelodeon All-Star Brawl's launch is just on the horizon, and it's penciled in for October 5. You can learn more about the game by exploring the official website here.
Leave a Reply