NieR: Automata devs on satisfying demands for Switch port, Smash Bros., more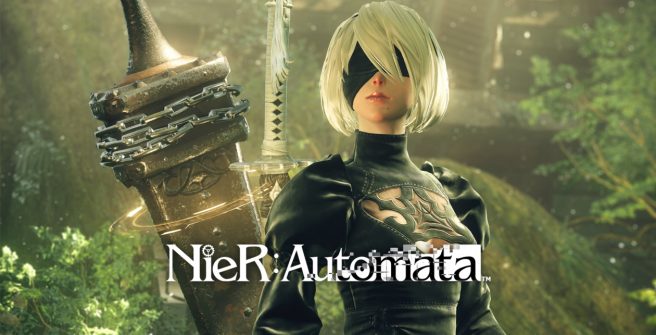 A new interview was recently published in Japanese magazine Nintendo Dream about the Switch version of NieR: Automata, and there was even a bit of joking around about Smash Bros. and more.
It took a few years, but the game finally came to Switch this past October. The game had been one of the more requested ports for the console, and that's something Square Enix, PlatinumGames, and Virtuos were finally able to deliver on.
Here's our translation:
Congratulations on the release of the Switch port of NieR: Automata!

Saito: It was great seeing an overwhelming number of positive responses from our fans. It was a great way seeing the game into its fifth anniversary.

Taro: We did have a lot of requests regarding a Switch port from overseas fans. I have been ignoring them thinking that it will never happen, but when Mr. Saito jumped on the idea, I got a real surprise thinking "Wait, making a Switch port? Now?". But we've worked hard on it until its release. So for those who messaged me "Can you make a Switch version please?", now you have an obligation to buy it.

(Everyone laughs)

Taro: This isn't your regular "Please consider buying it," statement, but a reminder that it is your duty to buy! There were lots of requests about it. At least those who rallied for this idea at the start must buy, if they don't I'll make them buy it.

But because of this, it's great news that Nintendo players are able to experience this game too.

Taura: Because this game was developed without thinking about the Switch, I really thought it was a joke at the start when I heard about the port (laughs). After the Switch port was officially announced, I was moved by seeing the game actually working on screen. I'm very grateful to the team who worked on this.

Taro: The company that was in charge of making the port was excellent. They were so good that they haven't really been involved with making ports for video games, which was a good thing!

Saito: If there were any regrets, I wish that we sped up the development a little bit faster so that we can join in the Christmas sale along with Super Smash Bros. Ultimate…

(Everyone laughs)

Yoko-oh: There were a lot of comments regarding when 2B was going to join the battle… so can you please make sure that the title of this article is along the lines of "NieR that just missed out being in Smash Bros"? Thanks.

You were in charge of overviewing the new port. Was there anything that you particularly focused on?

Saito: The company that was in charge of making the port, Virtuos was just fantastic. They made sure that the controls and small details that Taro and Taura wanted, were ported beautifully. We even heard praise from Nintendo on how good the gameplay felt.

Taro: Make sure to print the "Praised by Nintendo" bit.

(Everyone laughs)

Astral Chain has also reached its 3rd anniversary. Congratulations on this too!

Taura: The best thing that has happened is that I was able to decorate my house with the packaged version of NieR: Automata and Astral Chain side-by-side.

Saito: Maybe those who learnt about Mr. Taura from Astral Chain might play Nier: Automata too.

Taura: It would definitely make me happy if people played both games.

This time you can do certain actions by shaking the Joy-Con.

Saito: We had many ideas involving the Joy-Con actually. We tried to come up with many ideas, especially for the players who connect their Switch to the TV. As a result, we added something that was unique to the Switch: doing attacks by shaking the controller.

It was surprisingly fun when it was done. It felt as though you were in sync with 2B which made it even more fun.

Saito: This definitely adds onto the style of how you can play. It goes very well with Auto Mode since it makes you feel as though you are in the fight.

Taura: Hearing this makes me want to swing the controller now.

Taro: When I first heard about it, I thought that nobody would ever do this (laughs). But there are people who have enjoyed this, and this is an experience exclusive to Switch owners.

It was easier to play as there was one less button to learn.

Taura: If you detach the Joy-Con from the Switch, you have both your hands free. So wouldn't it be great playing while lying down? (He proceeds to lie down on the floor and make gestures of playing)

Taro: Please take a video of you swinging the Joy-Cons like that and send it to me (laughs).

Taura: As a new style, I highly recommend lying down.
NieR: Automata The End of YoRHa Edition is now available on Switch. Check out our review here.
---
Translation provided by Simon Griffin and centurionnugget on behalf of Nintendo Everything.
Leave a Reply