Ninjala reveals Rurouni Kenshin collaboration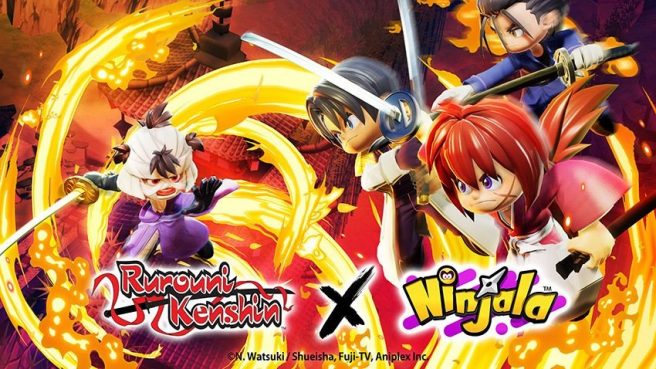 The collaborations continue for Ninjala, with GungHo today revealing a new partnership with the manga and anime series Rurouni Kenshin. This year, Rurouni Kenshin is celebrating its 25th anniversary.
As part of the event, players can obtain outfits inspired by Kenshin Himura, Hajime Saito, Aoshi Shinomori, Makoto Shishio, and more. Makoto Shishio can be obtained from a special collaboration Gumball Machine. Also up for grabs are five different types of Ninja-Gum including Kenshin Himura's Sakabato, Makoto Shishio's Mugenjin, and Sanosuke Sagara's Zanbatou. GungHo additionally recreated well-known attacks by the main characters from Rurouni Kenshin like "Amakakeru Ryu no Hirameki" and Gatotsu. IPPON Decorations featuring Kenshin Himura and Makoto Shishio, three different Gum Utsusemi including a Sojiro Seta Utsusemi, and a t-shirt designed after Sanosuke Sagara can be obtained during the event.
GungHo will also be celebrating the collaboration with the "Rurouni Kenshin Cup". The limited-time, six-hour long Rank Battle will take place on January 8, 2022.
Here's a video showcasing all of the Rurouni Kenshin collaboration news for Ninjala:
Collaborations have been a big part of Ninjala since launch. The game has previously teamed up with Sonic the Hedgehog, Puzzle & Dragons, Let It Die, Monster Hunter Rise, Demon Slayer, and Hatsune Miku.
The Rurouni Kenshin collaboration for Ninjala begins on December 15, 2021. It will last until January 12, 2022.
Leave a Reply