Nintendo at Gamescom, Super Mario Bros movie is a huge success (plus a special giveaway) | Nintendo Everything Refresh Ep. 053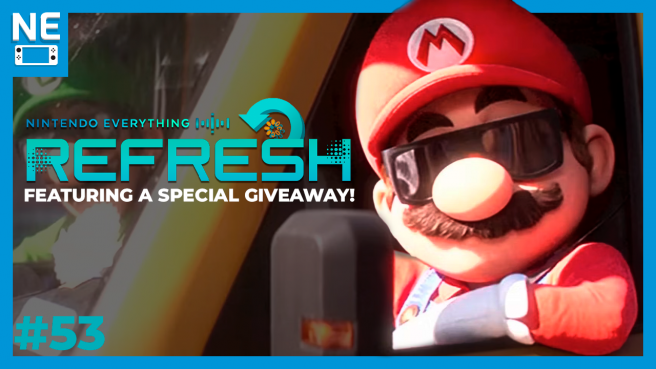 Zelda: Tears of The Kingdom is right around the corner, but that hasn't stopped Nintendo from making the news in other ways! In this week's episode of Nintendo Everything Refresh, we'll discuss Nintendo's recently announced presence at Gamescom 2023, as well as the massive success of the Super Mario Bros. Movie at the box office and what that might mean for the future. We'll also share details on some surprising Switch games announced recently, including a port of Biomutant, The Dark Pictures Anthology: Man of Medan, and an indie game about dogs playing poker.
Also – we have a giveaway happening this week! Forever Entertainment is giving away five eShop codes for Magical Drop V – a new entry in the long-running franchise of arcade puzzle games – to our listeners. To enter, just visit the comments over on the YouTube version of this episode, and leave a comment with the word "Magic" in it. We'll randomly pick five winners and announce them in a future episode (next week or the week after), so stay tuned! Winners will have their original comment replied to so we can find a way to get you your code.
Our podcast is available on most major streaming platforms, including Spotify, Apple Podcasts, Google Podcasts, Amazon Music and Audible, or you can check out the video version on YouTube.
Direct downloads are also available for free through our friends at ListenNotes. Have ideas or suggestions for the show, or want to submit a fan question or topic for a future episode? Let us know what you think – and thanks for listening!
➡ Inquiries/Fan Mail: [email protected]
➡ Visit the site: https://nintendoeverything.com
Episode Segments:
00:00 Intro 02:29 Giveaway for Magical Drop VI 05:42 Headlines 29:25 Game announcements 45:59 Recent releases 57:18 Refresh Rate
Hosts:
Nick Serpa: @ndserpa
Nicolas Shadday: @Dayshade1999
Tom Chaplin @Thomchaplin
Dennis Gagliardotto: @LyonHart_
Luiz Estrella: @Luizestrella_
Leave a Reply