Nintendo Direct: E3 2021 live stream, live blog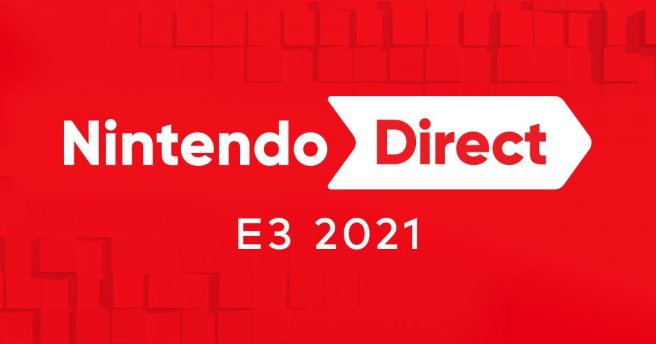 E3 2021 is almost over, but before the event ends, we have another major presentation to go. Nintendo will air a new Nintendo Direct today at 9 AM PT / 12 PM ET / 5 PM in the UK / 6 PM in Europe.
You can watch the broadcast as it happens below – we have streams for North America, Europe, and Japan (note that Nintendo Treehouse: Live will follow immediately after). Amit will also be keeping this post updated with a live blog as the Nintendo Direct happens. As major news breaks, we'll have it all right here on the site.
Live streams
Live blog
Super Smash Bros. Ultimate
-Next DLC character will be Kazuya Mishima from the Tekken series
-Further details to be shared at a later date
-Showcase to take place on June 28 at 7 am PT/10 am ET
Life is Strange
-Life is Strange True Colors coming to Nintendo Switch on September 10
-Life is Strange Remastered Collection coming later this year
Marvel's Guardians of the Galaxy
-Coming October 26
-Play as Starlord, featuring iconic and original Marvel characters
Worms Rumble
-Real time, arena-based shooter
-32 player, cross-platform
-Launching June 23 with new map
-25% pre-order discount, pre-orders start today
Astria Ascending
-Hand painted visuals, turn-based RPG
-Launching September 30
Super Monkey Ball Banana Mania
-Launching October 5
-Remaster of previous Super Monkey Ball games
Super Mario Party Superstars
-Collection of past games and boards
-5 classic boards from N64 era
-100 minigames from the past catalogue
-All game modes playable online
-Save progress mid-game when playing with friends
-Launching October 29 (pre-orders launching today)
Metroid Dread
-New entry in the Metroid franchise ("Metroid 5")
-2D Metroid game
-October 8, 2021 release date
-Will be further showcased during Treehouse Live
-Samus and E.M.M.I amiibo revealed (releasing same day as game)
Just Dance 2022
-40 new tracks
-November 4 release date
Cruise'n Blast
-Console exclusive
-Fall release window
Dragon Ball Z: Kakarot
-Follows Saiyan, Freiza, Cell, and Majin Buu saga
-Launching September 24
Mario Golf: Super Rush
-Standard golf, speed golf, battle golf, gold adventure modes
-Free updates will be added (courses + characters)
-Releasing June 25 (pre-orders available now on eShop)
-Will be shown during Treehouse Live
Monster Hunter Stories 2
-Turn-based battles
-Co-op multiplayer quests and battles
-Launching July 9
-Free demo June 25, save data carries over
-Will be shown during Treehouse Live
Wario Ware: Get it Together
-Control Wario
-Other playable characters (Ashley among others shown)
-2 player multiplayer
-Launching September 10 (pre-orders available now on eShop)
-Will be shown during Treehouse Live
Shin Megami Tensei V
-Fuse with mysterious figure, gaining the power to fight other demons
-Enemies visible on map
-Command based system (turn-based)
-Recruitment via negotiations
-Demon fusion returns
-Launching November 12 exclusively on Switch
-Pre-orders for physical version start June 21
-Will be shown during Treehouse Live
Danganronpa: Decedance
-3 previous games from the Danganronpa series
-Board game from V3 Killing Harmony has been expanded to a standalone game
-Available later this year
-Collection is a physical only release, all four games available digitally on their own
Fatal Frame: Maiden of Blackwater
-Various protagonists, new costumes, new photo modes
-2021 release window
Doom Eternal
-First DLC campaign expansion
-Launching later today
Tony Hawk's Pro Skater 1 + 2
-Launching June 25 (pre-orders available now)
Rebellion
-Third person shooter
-Local wireless co-op
-Online play
-Launching later today
Mario + Rabbids Sparks of Hope
-Rabbit Rosalina
-Run freely around battlefield
-Launching 2022
Advance Wars 1 + 2 Reboot Camp
-"Original Advance Wars returns"
-Reimagined and rebuilt from the ground up
-Launching December 3 (pre-orders available now)
-Will be shown during Treehouse Live
Hyrule Warriors of Calamity DLC
-Wave 1 available June 18
-Wave 2 available November 2021
The Legend of Zelda: Skyward Sword HD
-Two Joy-con mode, standard button mode in handheld mode
-Available July 16
-Game & Watch
-Features 3 Zelda games (original Zelda, Zelda II, Gameboy version of Link's Awakening) and Game & Watch game Vermin
-Available November 12
The Legend of Zelda: Breath of the Wild 2
-Prosthetic arm + new abilities for Link?
-Floating locales (expanded focus on vertical exploration)
-2022 release window
That's all for the Nintendo E3 Direct, Treehouse Live is up next!
Leave a Reply