Nintendo Direct live streams, live blog – September 4, 2019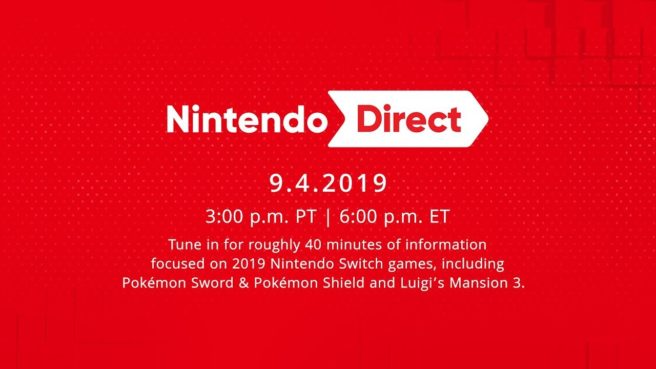 Today's Nintendo Direct will be starting in an hour from now. Nintendo will be kicking off the broadcast at 3 PM PT / 6 PM ET / 11 PM in the UK / 12 AM in Europe.
As previously mentioned, the Nintendo Direct will focus in 2019 games. Expect to hear more about Pokemon Sword/Shield, Luigi's Mansion 3, and many more games.
You can watch the Nintendo Direct as it happens below. We'll also have a live blog going past the break. Finally, new posts will be added to the site throughout and after the presentation.
Live streams
Live blog
First reveal – Overwatch
Requires Nintendo Switch Online
Release Date: October 15th
Luigi's Mansion
Tomb Suites, Disco, and other floors revealed
2-8 player Scream Park feature revealed with multiple minigames.
Kirby Clash
Free to Start
4 player online
Jobs are included for character customization
Supports local, couch, and online co-op
Launches today
Trials of Mana Remake
Party choices
Full range of movement
Allows for changing jobs and appearances
Releases April 24, 2020
Return of the Obra Dinn
Set in the time of the East India Company
Time travel mechanic with the use of a special pocket watch
Explore the ship to unravel a mystery
Releases Fall 2019
Little Town Hero
Protagonist is named Axe
Weapons are called "Ideas"
You can move around in battle to gain support of townsfolk
Music composed by Toby Fox
Releases October 16th with pre-purchase available today.
Smash Bros. Ultimate
Banjo releases TODAY
Livestream follows with more info for Banjo
New character revealed from SNK — Terry Bogard!
Terry releases in November of this year
Even more DLC fighters apart from the 5 promised will be arriving.
The Legend of Zelda: Link's Awakening
Chambers are earned during adventure to create own dungeon
Dungeons can be transferred to your friends so they can play them.
Dragon Quest XI S: Echoes of an Elusive Age Definitive Edition
Free DLC on the day of release
Includes consumables and appearance-changing items
Tokyo Mirage Sessions #FE Encore
Tokyo Mirage Sessions is coming to Switch
Includes characters like Chrom and Caeda
Combat focused on Persona
New features included for Switch edition
Releases January 17th 2020 with pre-purchase available today
Deady Premonition 2: A Blessing in Disguise
Releases in 2020
Deadly Premonition Origins is available today.
Divinity: Original Sin 2 Definitive Edition
Cloud Saves transfer between Switch and Steam
Available Today
Doom 64
Bethesda highlights release and first port to Nintendo
November 22 release date
Rogue Company
Developed by Hi-Rez Studios
Action title that focuses on online play
Many modes, weapons, and skins
Releases 2020
Pokemon Sword and Shield
Customization for your character allows a wider variety of fashion and hairstyles
Makeup, gloves, and other pieces are able to be customized
Pokemon Camp is introduced – can be done anytime.
In the Wild Area, you can visit the camps of other players and interact with their Pokemon.
Cooking is available in the camp, allowing you to make curry and customize a meal for yourself and your Pokemon.
CurryDex — about 100 types of Curry can be logged.
Polteageist – A Pokemon whose body is made of tea with its own aroma and flavor.
Cramorant – Flying and Water type that swallows anything it can. If its damaged while food is in its mouth, an exclusive move called Gulp Missile is used.
Nintendo Switch Online
SNES games announced
Some titles available for the first time
Couch and online co-op are supported
Rewind available
Titles included are: Star Fox, Breath of Fire, and A Link to the Past among other classics.
SNES controller for Switch exclusive to Online subscribers for 29.99
Tetris 99
Invictus announced, can only be played once Maximus status is acheived
Daily challenges to be added
New skins and icons
Second wave of paid DLC arrives
Updates available tomorrow
Mario and Sonic at the Olympic Games
Adds ten retro style events with 2D retro graphics
New minigames and unlockable characters
Story mode that involves main characters
Releases November 5th
Daemon X Machina
Free demo version is available later today
This is the prologue of the game and the demo can carry over to the main game.
The demo supports 4 player co-op over local wireless
Full game supports online play
Star Wars: Jedi Knights II: Jedi Outcasts
The Witcher 3: WIld Hunt Complete Edition
Assassin's Creed Collection
All past DLC
Exclusive Motion Control
Dauntless
hundreds of customizable gear options
free content updates
Animal Crossing: New Horizons
highlighting the "Deserted Island Getaway Package"
Players are provided with a tent
NookPhone provided with a variety of apps in early game
Workbench is usable at Resident Services
Flowers regrow when picked
Weeds now have uses
Seems like there is a food gauge that supports more physically involved activities like uprooting a tree.
Four player local multiplayer for those who live on the same island.
8 players online multiplayer
reiteration of 3.20.2020 release date
Xenoblade Chronicles Definitive Edition
Leave a Reply