[Nintendo Everything Podcast] – episode #108 – Sephiroth and the Video Game Awards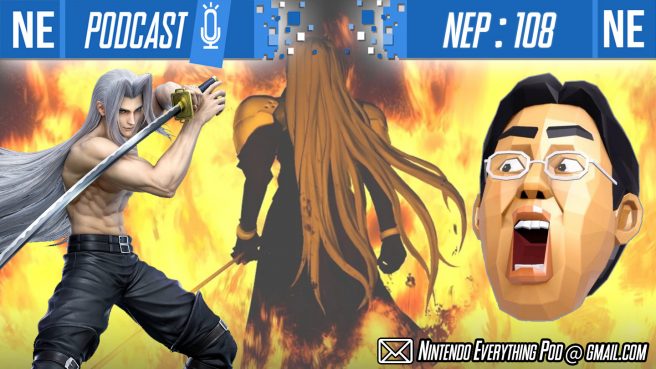 This week on Nintendo Everything Podcast, we're doing a little giveaway. Listen to the opening portion of the episode for how to enter. Then, it's the big stuff: Sephiroth in Super Smash Bros Ultimate. And our cynical look at The Game Awards 2020, all its announcements, and rewarding industry crunch…
If you're enjoying NEP, please consider giving us a 5-star review on Apple Podcasts and share us with a friend. It's incredibly helpful in getting us exposed to new listeners through algorithms, so we would greatly appreciate your help. Thank you for listening to our Nintendo podcast!
Podcast Discord: http://tiny.cc/NintendoEverythingPod
Timestamps:
10:40 – Adventure Log: Hades
17:40 – News?: Cyberpunk 2077 discourse
26:05 – Adventure Log: My Friend Pedro
31:32 – Adventure Log: Hyrule Warriors: Anger Of Calamity
39:41 – The Game Awards and Sephiroth in Smash Bros.
1:26:41 – Additional DLC
1:28:08 – Listener Mail
Additional DLC:
– Naughty Dog Crunches On The Last Of Us II – Jason Schreier for Kotaku: https://bit.ly/2WkExWl
– Going Spaceward (Fly me to the moon w/ Rap): ttps://youtu.be/O1puRnV6gwE
Business inquiries and listener mail contact:
YouTube
Apple Podcasts / iTunes: https://apple.co/2xLl0C5
Spotify: https://spoti.fi/2Gdgoch
Direct Download
PocketCasts: https://pca.st/IQVa
Amazon / Audible: https://adbl.co/2H2Uj3S
Stitcher: https://bit.ly/30uxOZR
PlayerFM: https://bit.ly/2yfCu9P
ListenNotes: https://bit.ly/2SINTbG
PodTail: https://bit.ly/2yfDgDL
Oni Dino's Twitter: @Oni_Dino
Oni Dino's Insta: Oni__Dino
Galen's Twitter: @mobius087
Galen's Insta: true_mobius
HUGE thank you to Headphones of Listening for NEP's intro music! Check him out on soundcloud!
Leave a Reply