[Nintendo Everything Podcast] – episode #35 – New Super Mario Maker U RPG: Mariovania 2.5D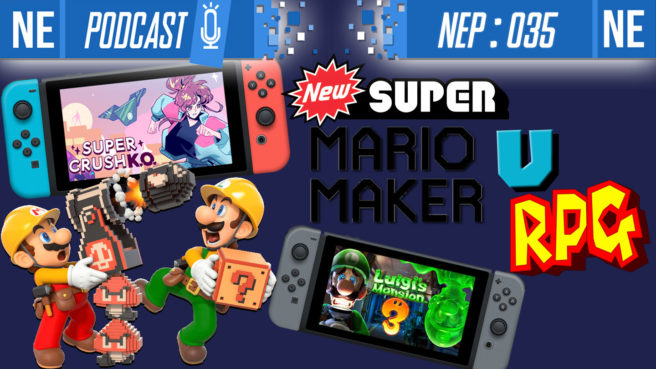 Hello my beautiful Mario and Luigi makers! Super Mario Maker 2 is out this week so let's chat! Takashi Tezuka has given us some pearls of info to muse on. Galen and Oni have a running argument on autorunner levels. The gang also discusses what Nintendo does with the future of Mario 2D side-scroller platformers as stand alone titles. Oni thinks they need to go a totally new direction, and he has THE BEST ideas. Nintendo, please check these out. They're free. Oni and Galen have basically acted as creative producer on this and workshopped 'em.
Oni and Galen then blab on about some new info on an upgraded Switch model, and consider things not only from a consumer standpoint, but from a developer's burden point of view, as well. We muse on the big questions like, "Is the inevitable Switch model going to be a small bump or a huge leap so it can at least hold its own against the PS5 and Xbox Scarlett?" Galen brings up marketing and aiming at different markets, while Oni fights back with discussions of the slippery slope effect that the Switch could lose 3rd party support.
If you'd like to support our show, you can help out by sharing the show with someone who hasn't heard of us before, and by rating us 5 stars on iTunes! We really appreciate all your support an thank you so much for listening!
Timestamps:
02:42 – Adventure Log: Mario games in local co-op!
10:14 – Super Mario Maker 2 launches, exciting levels already created, Takashi Tezuka reveals a bunch on the development behind the game, influenced by fan creations. What's next for Mario mainline games in the future? 2.5D, Mario Vehicles, Mariovania, Mario Tactics RPG?
33:01 – Switch hardware revision talk resurfaces. Switch Mini, Switch Pro? Switch Boy, Switch Girl? Overclocking GPU, CPU and RAM in hacked Switches. What Oni and Galen want. 3rd party support slippery slope.
54:15 – Additional DLC
56:55 – Listener Mail: Favorites from E3 – Super Crush KO and Luigi's Mansion 3
Additional DLC
Inventory UX Design by Design Doc
https://youtu.be/5_3BUU9ZmNo
James Veitch – Comedian
https://www.youtube.com/watch?v=f5d8pVg3Qtg
Send us an email and we'll discuss it!
NintendoEverythingPod [at] gmail [dot] com
Listener Bonus: Help the show grow and support us by giving us ☆5 STAR☆ iTunes review, likes and comments on YouTube, and share the Spotify playlist with your Nintendo-loving buddies!
Thank you!
YouTube
iTunes
https://itunes.apple.com/podcast/nintendo-everything-podcast/id1441241130?mt=2
Spotify
https://open.spotify.com/show/0zifaLm4st7KtUzDEojWBh
Direct Download
PocketCasts
Stitcher
https://www.stitcher.com/podcast/nintendo-everything-podcast
PlayerFM
https://player.fm/series/nintendo-everything-podcast
ListenNotes
https://www.listennotes.com/@NintendoEverythingPodcast/
PodTail
https://podtail.com/en/podcast/nintendo-everything-podcast/
Follow us on Twitter and Instagram
@NinEverything
twitter: @Oni_Dino / insta: Oni__Dino
@mobius087
A HUGE thank you to Headphones of Listening for NEP's intro music!
Check him out on soundcloud!
Leave a Reply