[Nintendo Everything Podcast] – episode #61 – 2020 Predictions! Nintendo Direct? Smash DLC? Fake it til you make it!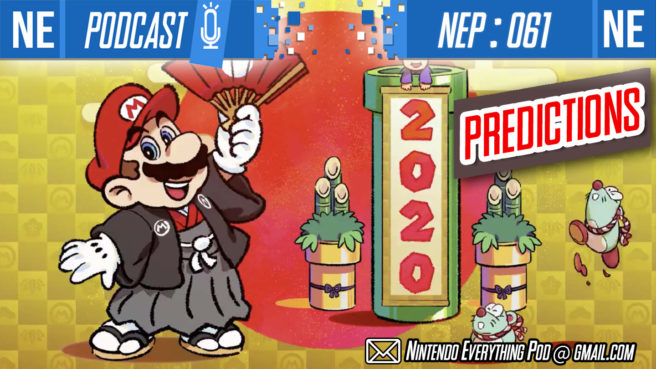 Happy New Year! Start off the decade on the right foot by joining Oni Dino and Galen as we predict Nintendo's 2020! We've got a game with around 20 questions about Nintendo's future and predict the outcomes. Who will be the victor? Also, there seems to be a Nintendo Direct around the corner. We want certain Smash characters as DLC and we have great, realistic arguments for why they really could be future characters. Plus, Wii U ports that make sense. And a healthy dose of Fire Emblem: Three Houses talk.
If you're enjoying NEP, please consider giving us a 5 star review on Apple Podcasts, aka new iTunes. It's incredibly helpful in getting us exposed to new listeners through algorithms, so we would greatly appreciate your help. Thank you for listening!
Timestamps:
05:24 – Adventure Log: Gato Roboto and Magic the Gathering
23:06 – News: Mystery SKUs at Gamestop, Nintendo Direct incoming? And Animal Crossing footage.
31:52 – GAMING PREDICTIONS for NINTENDO's 2020: the cutthroat game!
1:06:02 – Smash DLC predictions!
1:16:37 – More Bethesda support on Switch? Fallout? Elder Scrolls?
1:21:05 – Upcoming Wii U or Nintendo 3DS ports?
1:25:21 – Additional DLC
1:29:03 – Listener Mail: Where does the Fire Emblem series go after the brilliant Fire Emblem: Three Houses? Base-building? Managing villages? Roller Coaster Tycoon? Then, we talk about Blizzard's future support on Switch—could we see vanilla WoW? Let's think realistically.
Send us an email and we'll discuss it!
[email protected]gmail.com
Listener Bonus: Help the show grow and support us by giving us ☆5 STAR☆ iTunes review! Thank you!
YouTube
Apple Podcasts / iTunes: https://apple.co/2xLl0C5
Spotify: https://spoti.fi/2Gdgoch
Direct Download
PocketCasts: https://pca.st/IQVa
Stitcher: https://bit.ly/30uxOZR
PlayerFM: https://bit.ly/2yfCu9P
ListenNotes: https://bit.ly/2SINTbG
PodTail: https://bit.ly/2yfDgDL
Oni Dino's YouTube "Gayme Married": https://bit.ly/2JK21xd
Oni Dino's Twitter: @Oni_Dino
Oni Dino's Insta: Oni__Dino
Galen's Twitter: @mobius087
Galen's Insta: true_mobius
HUGE thank you to Headphones of Listening for NEP's intro music! Check him out on soundcloud!
Leave a Reply