[Nintendo Everything Podcast] – episode #71 – Coronavirus cancelled E3 2020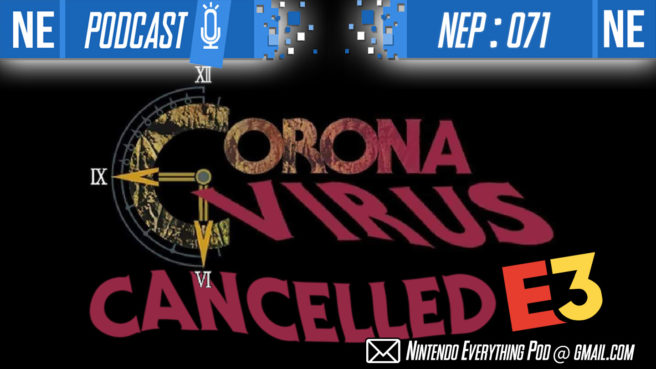 Hello my lovely legos! This week on NEP, we're tackling the sad news of E3's cancellation as the corona virus pandemic grows globally. With E3's cancellation, how will companies drive business strategies for this Summer and Fall? And how will this affect consumers? Will we see a Nintendo Direct and other such pre-recorded presentations this June? The sky is falling. However! We keep things light-hearted, too, as we talk about the recently released Kemono Heroes, Murder By Numbers, and the Animal Crossing: New Horizons special edition Switch console. Do you have a square to spare?
If you're enjoying NEP, please consider giving us a 5 star review on Apple Podcasts, aka new iTunes. It's incredibly helpful in getting us exposed to new listeners through algorithms, so we would greatly appreciate your help. Thank you for listening!
Timestamps:
06:42 – Adventure Log: Galen unboxes Animal Crossing Special Edition Switch console
19:47 – Adventure Log: Kemono Heroes does some wild stuff
34:49 – Adventure Log: Snack World camera niggles
42:21 – Adventure Log: Murder By Numbers mini-impressions
51:13 – News: E3 2020 officially cancelled. How will this year and beyond change in both consumer and industry realms?
1:12:39 – Quick-fire News: Nintendo Direct and Indie Showcase rumors, Xenoblade Chronicles soon please? And Lego Mario.
1:18:58 – Additional DLC
1:25:04 – Listener Mail: What classic cartoons that we watched when we were young do we want to see as video games?
Additional DLC:
Business inquiries and listener mail contact:
[email protected]gmail.com
Listener Bonus: Help the show grow and support us by giving us ☆5 STAR☆ iTunes review! Thank you!
YouTube
Apple Podcasts / iTunes: https://apple.co/2xLl0C5
Spotify: https://spoti.fi/2Gdgoch
Direct Download
PocketCasts: https://pca.st/IQVa
Stitcher: https://bit.ly/30uxOZR
PlayerFM: https://bit.ly/2yfCu9P
ListenNotes: https://bit.ly/2SINTbG
PodTail: https://bit.ly/2yfDgDL
Oni Dino's YouTube "Gayme Married": https://bit.ly/2JK21xd
Oni Dino's Twitter: @Oni_Dino
Oni Dino's Insta: Oni__Dino
Galen's Twitter: @mobius087
Galen's Insta: true_mobius
HUGE thank you to Headphones of Listening for NEP's intro music! Check him out on soundcloud!
Ending song by Clay Kramer on YouTube!
Leave a Reply