[Nintendo Everything Podcast] – episode #93 – Nintendo Indie World and No Straight Roads (feat. Daim & Haz from Metronomik)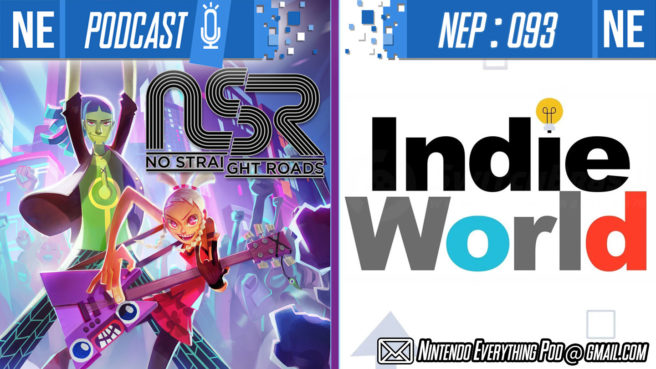 This week on Nintendo Everything Podcast, we're joined by special guests Daim Dziauddin and Wan 'Haz' Hazmer, directors of No Straight Roads for Nintendo Switch. They share their experiences of working in the Japanese game industry at Capcom and Square Enix, leading them to found their own business back in their home of Malaysia. We're very excited to highlight the important work they're doing for the Malaysian games industry—both of them have a lot of passion and excitement for games, and it shows! Both guests bring a bunch of energy and insight as we cover all the indie goodness in Nintendo's Indie World Showcase. Jump into today's episode, full of Nindie goodness!
It's another big episode—check out links and timestamps below and come hang out.
If you're enjoying NEP, please consider giving us a 5-star review on Apple Podcasts, and share us with a friend. It's incredibly helpful in getting us exposed to new listeners through algorithms, so we would greatly appreciate your help. Thank you for listening!
Timestamps:
– START – Interview with Metronomik's Haz & Daim, the director's up No Straight Roads.
– 1:08:41 – Nintendo's Indie World Showcase!
– 2:09:59 – Additional DLC
– 2:16:28 – Listener Mail
Additional DLC:
– NECKY – ALIVE featuring STEVIE
https://youtu.be/KC9AniXVbDc
– Hazbin Hotel (Pilot)
https://youtu.be/Zlmswo0S0e0
Business inquiries and listener mail contact:
#nintendopodcast #gamingpodcast #podcast
YouTube
Apple Podcasts / iTunes: https://apple.co/2xLl0C5
Spotify: https://spoti.fi/2Gdgoch
Direct Download
PocketCasts: https://pca.st/IQVa
Stitcher: https://bit.ly/30uxOZR
PlayerFM: https://bit.ly/2yfCu9P
ListenNotes: https://bit.ly/2SINTbG
PodTail: https://bit.ly/2yfDgDL
Oni Dino's Twitter: @Oni_Dino
Oni Dino's Insta: Oni__Dino
Galen's Twitter: @mobius087
Galen's Insta: true_mobius
HUGE thank you to Headphones of Listening for NEP's intro music! Check him out on soundcloud!
Leave a Reply