[Nintendo Everything Podcast] – episode #94 – The lukewarm Nintendo Direct Mini: Partner Showcase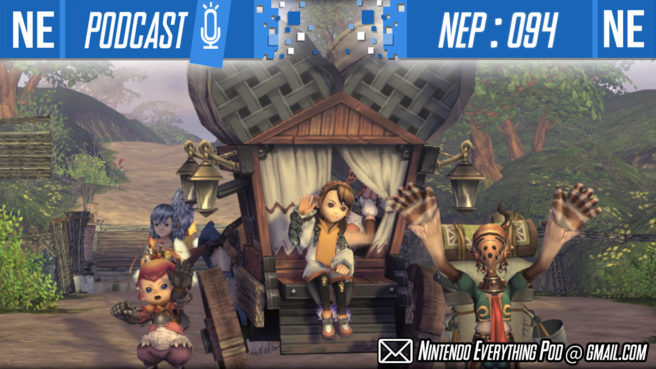 This week on Nintendo Everything Podcast we're catching up on several recent releases. Final Fantasy Crystal Chronicles is a mixed bag, Giraffe and Annika a charming little adventure, Sentinels of Freedom has highs and lows, and Spiritfarer is a character-driven delight. Then… the Nintendo Direct Mini. Neither Oni Dino nor Galen really cared about the games in the showcase, but that's totally fine. Being disappointed is fine—we move on and play all the games that are already out or releasing soon. Those who are genuinely upset? That's behavior that players should identify within themselves and reevaluate how they interact with entertainment media.
Check out links and timestamps below and come hang out.
If you're enjoying NEP, please consider giving us a 5-star review on Apple Podcasts, and share us with a friend. It's incredibly helpful in getting us exposed to new listeners through algorithms, so we would greatly appreciate your help. Thank you for listening!
Timestamps:
– 4:35 – Adventure Log: Giraffe and Annika
– 18:20 – Adventure Log: Sentinels of Freedom
– 33:25 – Adventure Log: Final Fantasy Crystal Chronicles Remastered Edition
– 51:10 – Adventure Log: Spiritfarer
– 1:01:18 – News: Nintendo Direct Mini: Partner Showcase | August 2020
– 1:33:22 – Additional DLC
– 1:37:03 – Listener Mail: Kickstarter regrets
Additional DLC:
– How Al Bundy Became an Icon, A Married With Children Retrospective
https://youtu.be/f4tmyGvqNJk
– DJ Earworm: Generational Pop Music Mixer
Business inquiries and listener mail contact:
#nintendopodcast #gamingpodcast #podcast
YouTube
Apple Podcasts / iTunes: https://apple.co/2xLl0C5
Spotify: https://spoti.fi/2Gdgoch
Direct Download
PocketCasts: https://pca.st/IQVa
Stitcher: https://bit.ly/30uxOZR
PlayerFM: https://bit.ly/2yfCu9P
ListenNotes: https://bit.ly/2SINTbG
PodTail: https://bit.ly/2yfDgDL
Oni Dino's YouTube "Gayme Married": https://bit.ly/2JK21xd
Oni Dino's Twitter: @Oni_Dino
Oni Dino's Insta: Oni__Dino
Galen's Twitter: @mobius087
Galen's Insta: true_mobius
HUGE thank you to Headphones of Listening for NEP's intro music! Check him out on soundcloud!
Leave a Reply