Nintendo hardware bundles, game deals highlight great values for Black Friday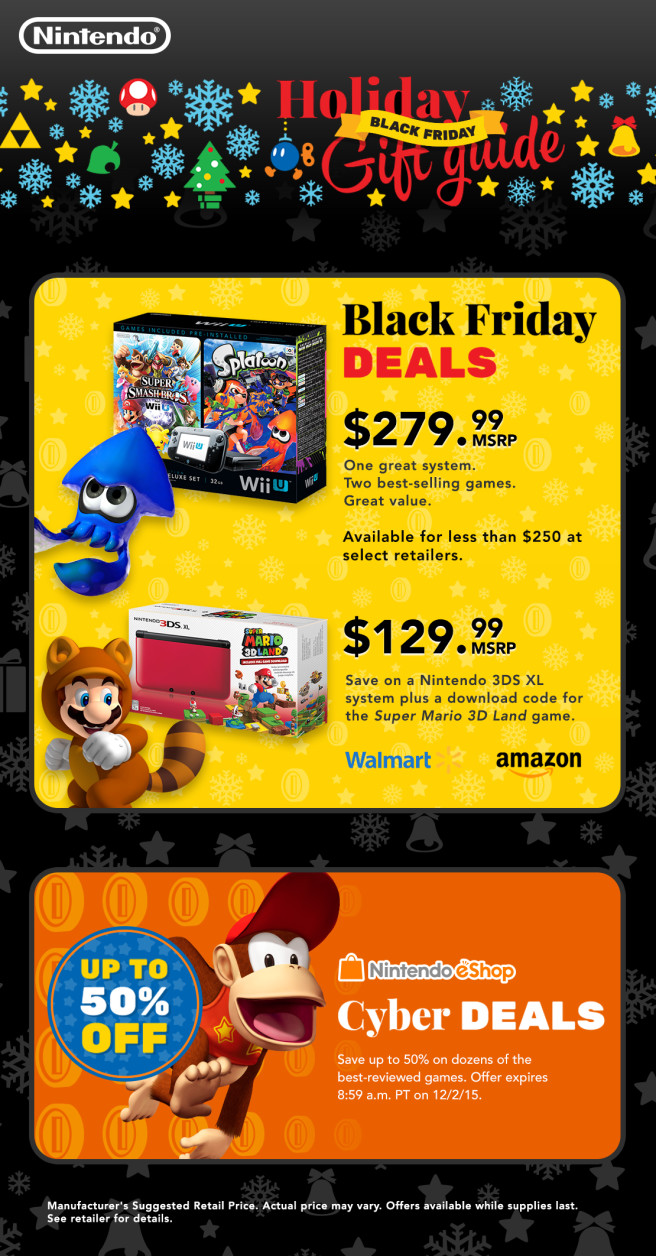 We've already heard about some of Nintendo's Black Friday 2015 offers and deals, including the new Wii U bundle. This will feature pre-installed copies of Splatoon and Super Smash Bros. for Wii U. It'll be sold for $280, but some retailers will be offering it for $250.
Nintendo is also teasing its own set of deals on the eShop. Plenty of discounts are planned "on dozens of the best-reviewed games."
Head past the break for today's full announcement about Nintendo's Black Friday deals.
REDMOND, Wash.–(BUSINESS WIRE)– Major retailers nationwide will be offering heaps of great deals on some of Nintendo's most popular games and systems for the holidays, highlighted by a new Smash Splat Wii U Deluxe Set that includes the Wii U console and two highly sought-after games: Super Smash Bros. for Wii U and the squid hit of the year: Splatoon, both pre-installed on the system. This bundle launches in retail stores at a low suggested retail price of $279.99, with select retailers offering it at less than $250. Walmart and Amazon will offer the original Nintendo 3DS XL system with a download code for the mega-hit game Super Mario 3D Land for a suggested retail price of $129.99.

Or, if you prefer the flagship New Nintendo 3DS XL, you can save $20 off the suggested retail price of $199.99 at major retail stores. Additionally, starting Nov. 25, the Nintendo eShop will be offering up to 50 percent discounts on select downloadable games. More great savings will be available at various retailers.

"Fun is more affordable than ever. Whether you're a Nintendo fan or shopping for one this holiday season, these excellent deals provide fun game experiences for the whole family," said Scott Moffitt, Nintendo of America's Executive Vice President of Sales & Marketing. "These great offers on Wii U, Nintendo 3DS and a large number of games represent an incredible value for people who want to make their holiday shopping dollars go as far as possible."

As of today, here's a roundup of some of the deals that will be available around Black Friday. See stores for specific dates. All offers are available while supplies last. And for a complete rundown of deals on multiple Nintendo products for the holidays, keep an eye on http://happyholidays.nintendo.com/deals.

Smash Splat Wii U Deluxe Set

Suggested retail price of $279.99 at major retailers, available at Target and Walmart for less than $250

New Nintendo 3DS XL

Save $20 off the suggested retail price of $199.99 at Best Buy, Target, Toys R Us, GameStop and Walmart.com

Nintendo 3DS XL

Bundle with a download code for the Super Mario 3D Land game at a suggested retail price of $129.99 at Amazon.com, $129 at Walmart

amiibo

Buy one, get one for 40 percent off on all figures and cards, at Toys R Us
Walmart exclusive: Super Mario Bros. 30th Anniversary Mario amiibo figure – Modern Color for $12.96

Select Wii U Games at Walmart for $25

Splatoon
Mario Party 10

Select Nintendo 3DS Games at Target for $15

New Super Mario Bros. 2
Mario Kart 7
Super Mario 3D Land
Animal Crossing: New Leaf
Source: Nintendo PR
Leave a Reply