Nintendo on IP expansion, mobile game downloads surpass 650 million, more visual content planned beyond Mario movie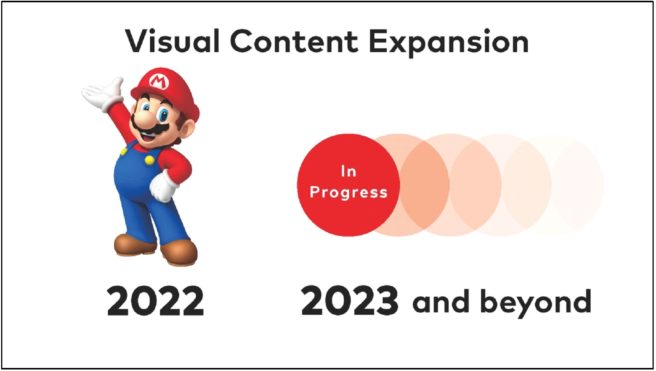 This information comes from Nintendo president Shuntaro Furukawa, speaking during the company's Corporate Management Policy Briefing…
In the 2012s, we began expanding our character IP, which has grown into a unique strength over the years to become one of our major pathways into new areas. In 2015, we turned our focus to increasing the number of people who have access to Nintendo IP, creating an ecosystem that contributes to the long-term growth of our business.

As the different kinds of entertainment that people enjoy continue to grow, we are bringing our IP to new areas to spark interest among consumers who don't yet own our video game systems. By encouraging consumers who are new to our IP to become interested in and excited about our game experiences, we can further strengthen our main integrated hardware-software business.

On that note, I'd like to introduce four areas where we are working to utilize our IP: merchandise expansion, mobile expansion, our expansion into theme parks and visual content.

First is merchandise expansion. A variety of products have been released in collaboration with our partner companies around the globe, including toys, stationery and apparel.

Our merchandise expansion covers an array of products, but we focus on working with our parent companies to create unique products that fit the individuality of each property. By taking an active role in both development and quality control, we strive to ensure that we deliver fun experiences that consumers will want to keep returning to.

We also opened Nintendo Tokyo in November 2019 as the Nintendo group's second official store after Nintendo New York in the U.S., and have since welcomed fans of many ages from Japan and overseas. Nintendo Tokyo is more than a place to sell Nintendo merchandise – it is a new point of contact for connecting with consumers and sharing the appeal of Nintendo IP.

We are also excited about our expansion into theme parks. As you may recall, Super Nintendo World is currently under construction at Universal Studios Japan. We believe that Super Nintendo World will deliver the fun, unique worlds and experiences only possible through our partnership with Universal Studios. Preparations to open are underway, with a more detailed timeline to be announced by Universal Studios Japan.

Turning to our work on the mobile expansion, we are continuing to leverage the explosive growth in smart device adoption to rapidly expand the number of people who have access to Nintendo IP. We have applications that are available in 164 countries and regions, and the seven game applications we've released since 2016 have surpassed a combined total of 650 million unique downloads.

(Unique download counts exclude re-downloads of an application by the same user.)

Some of our smart device game applications share the same characters as titles for Nintendo Switch, but the gameplay is entirely different, due to interface differences between smart devices and video game systems. While mobile applications tend to provide shorter, more casual experiences, a number of consumers have gone on to develop an interest in the deeper, more immersive experiences offered by our video game systems.

From this, we know that our mobile expansion encourages consumers to pick up Nintendo Switch hardware.

Another way we are delivering Nintendo entertainment to a wider audience is with the Super Mario CG-animated movie, which is scheduled for theatrical release in 2022. Production is moving ahead smoothly, thanks to the collaboration between Chris Meledandri, founder and CEO of Illumination, known for the Minions movies, and Nintendo's Representative Director and Fellow, Shigeru Miyamoto, who is serving as co-producer. The movie will be distributed worldwide by Universal Pictures.

We have also already embarked on multiple other visual expansion projects, and are pursuing further opportunities. As we shared previously, the Super Mario movie is being financed by Nintendo as well as Universal Pictures, and we are actively involved in planning, development and production. Going forward, visual content expansion initiatives may not be limited to film. The scale of our investments will vary based on the type of project, but we will continue to invest in these entertainment expansion initiatives to increase the number of people who have access to our IP.

So now let me explain the philosophy surrounding the expansion of Nintendo IP.

Our IP has grown over the years and gained recognition, alongside our dedicated video game platforms.

The connection between consumers and our characters established through the controller as they play lasts for a long time, building personal attachments and fondness for the IP. Nintendo characters are much more than simply their design; they create a special bond with the people who play our games. That's why we will always expand our properties in ways that fit the individual appeal of each character, taking great care not to damage the image or attachment consumers have for them. In addition, we strive for the utmost quality rather than simply increasing the amount of exposure to our characters.

The goal of our initiatives to drive awareness through IP expansion is to build interest in the games that feature our rich cast of characters. I n other words, its purpose is to contribute to our dedicated video game platform business. Accordingly, we are vigilant about making sure IP expansion doesn't unintendedly introduce new attributes or personality traits for characters that might limit future game development.
Leave a Reply