Nintendo reveals Japan's best-selling games on the Switch eShop for 2022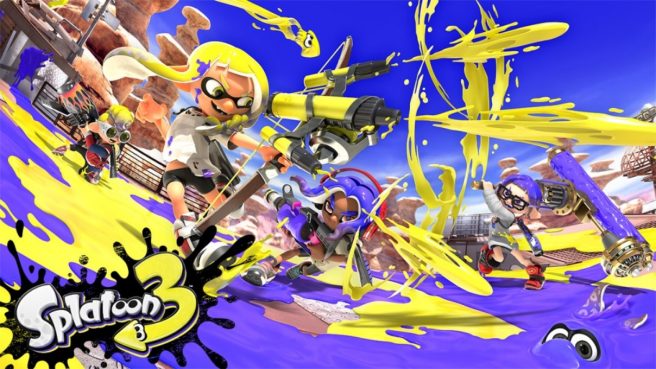 Nintendo has provided new data that reveals the top 30 best-selling games on the Japanese Switch eShop for 2023.
Splatoon 3 is known for its popularity on the country, so it's perhaps no surprise that it comes in at #1. A few Pokemon games make up the rest of the top five along with Monster Hunter Rise. Other notable appearances include Kirby and the Forgotten Land at #6 and Xenoblade Chronicles 3 at #10.
The full list is as follows:
1. Splatoon 3
2. Pokemon Legends: Arceus
3. Pokemon Violet
4. Pokemon Scarlet
5. Monster Hunter Rise
6. Kirby and the Forgotten Land
7. Nintendo Switch Sports
8. Mario Kart 8 Deluxe
9. Overcooked 2
10. Xenoblade Chronicles 3
11. Kirby's Dream Buffet
12. Among Us
13. Super Smash Bros. Ultimate
14. Animal Crossing: New Horizons
15. Zelda: Breath of the Wild
16. Minecraft
17. Human: Fall Flat
18. Clubhouse Games: 51 Worldwide Classics
19. Mario Party Superstars
20. Mon-Yu
21. eBaseball Powerful Pro Baseball 2022
22. Together! The Battle Cats
23. Inside
24. Momotaro Dentetsu: Showa, Heisei, Reiwa mo Teiban!
25. Dragon Quest X Offline
26. Dragon Quest III
27. Resident Evil 6
28. Splatoon 2
29. Unravel Two
30. Undertale
This chart is based on sales recorded on the Japanese Switch eShop between January 1, 2022 and December 20, 2022.
For those curious about the results from last year, Nintendo previously shared that information last December. We have the full chart right here.
Leave a Reply