Octopath Traveler gets new details and screenshots for H'aanit and Therion, more regions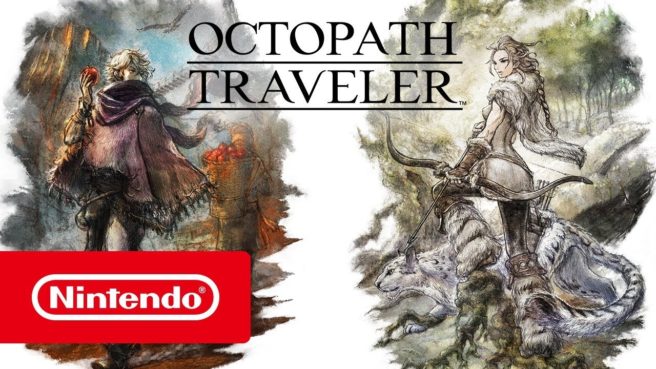 Square Enix released another batch of details and screenshots for Octopath Traveler today. Aside from the latest characters H'aanit and Therion, we have coverage pertaining to a couple of regions.
H'aanit is 26 years old. She lived as the best "Hunter" in a certain village in the Woodland region, and her teacher left the village a year ago to hunt a monster known as the "Red Eye".
As a hunter, H'aanit excels in bow skills which have high attack counts, and can instantly Break enemies with high accuracy. She can also give support such as raising ally critical rates or slowing enemy movement order.
Therion, a thief, is 22 years old. He drifted into the Cliffland region, and nobody knows what he was in the past. Nobles and wealthy people tremble upon hearing rumors of Therion, who appears and disappears unexpectedly.
Therion's thief's ability has high speed and excels in early attacks by using a short sword. He also has skills that let him steal HP and SP while attacking or lower enemy attack and defense powers, so he will perform well in long-drawn battles.
Woodland is a region on the northwestern side of the Olstera continent which is surrounded by lush forests. To the west of this very natural area is the Bardant Sea. This region is not unified by a nation, and most cities run their own administration.
The southern part has a "Black Forest" which has the Si'Walt Village where Zanter, the hunter who can use monsters, lives in. People from not only within Woodland but also from other regions and the Sacred Flame Church visit this village to request exterminations of ferocious monsters.
Cliffland region is comprised of steep cliffs located on the West side of Olstera. Filled with various veins of ore, many people here mainly work as blacksmiths that forge weapons, armors, and more. This region also produces a lot of rock salt, so there are many prosperous nobles and merchants. But the disparity of wealth is also big here.
This region used to be ruled by the Kingdom of Felien. But when the Kingdom of Edras split up from them, the latter gets to control most of Cliffland. Currently, most of the currency used in the Olstera continent is Leef, which comes from Edras. The current king is named Elman.
We have screenshots showing off today's Octopath Traveler coverage from Square Enix below.
Leave a Reply