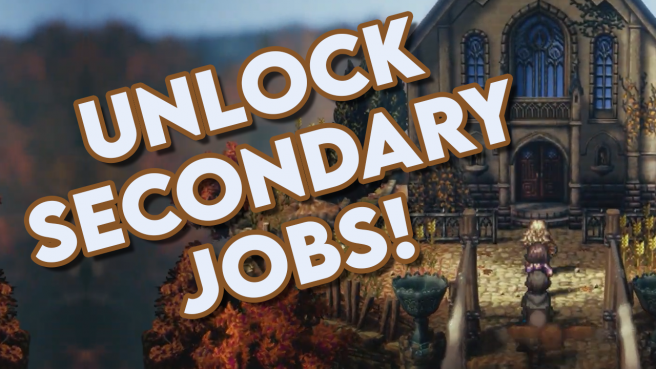 Now that Octopath Traveler II is here on Switch, we've put together a new guide that should come in helpful to find all of the game's guild locations.
Similar to the first game, Octopath Traveler II provides licenses to outfit your party members with secondary jobs. These jobs allow them to access the abilities of other classes, giving your party more variety when in combat. One way to obtain these licenses is by finding various class guilds spread throughout the world.
The guide below will provide the location for each of the main eight class guilds. We also have a video version at the very end of this post.
Octopath Traveler II guild locations
Warriors Guild
Starting with an easy one, the Warriors Guild is in the Western Continent, located in the city of Sai. Look for the big building in the back of the town with no doors.
Dancers Guild
Also on the Western Continent is the Dancers Guild. Tucked into a less remarkable building at the back of Wellgrove City in the Leaflands region.
Scholars Guild
On the Eastern Continent this time is the Scholars Guild. It is located just outside of the city of Winterbloom, where a lone building stands atop a hill in the Western Winterbloom Snows area in Winterlands.
Clerics Guild
Continuing on with our Octopath Traveler II guild locations guide, two loading screens to the east of Flamechurch in the Eastern Continent region of the Crestlands sits the Clerics Guild at the end of Borderfall's long canyon bridge.
Thieves Guild
Also on the Eastern Continent, the Thieves Guild can be found in the city of Clockbank. However, the door to the building, which is located all the way in the top left corner of the city, does not work. You must go underneath through a dark alleyway that takes you into the building from below. The Thieves Guild Master will only be there at night, so be sure to change the time to night.
Merchants Guild
Back on the Western Continent, the Wildlands region is home to the town Crackridge. To the west of Crackridge, in the Western Crackridge Wilds, is a land bridge where the Merchants Guild have set up shop on the other side.
Apothecaries Guild
Still on the Western Continent, the Apothecaries Guild is located in the most southward building of Harborlands' Conning Creek town.
Hunters Guild
Lastly, and maybe the most hidden guild, is the Hunters Guild. Sailing to the Island of Toto'haha from Canalbrine will leave you a few short screens from this guild. Before reaching the city of Tropu'hopu by heading East, in the Western Tropu'hopu Traverse, the Hunters Guild can be reached by heading up and then to the left. Even in the footage I almost miss the secret grove on the left forest wall that will open up into the Hunters Guild Master's humble abode.
Leave a Reply