Okami receiving the vinyl treatment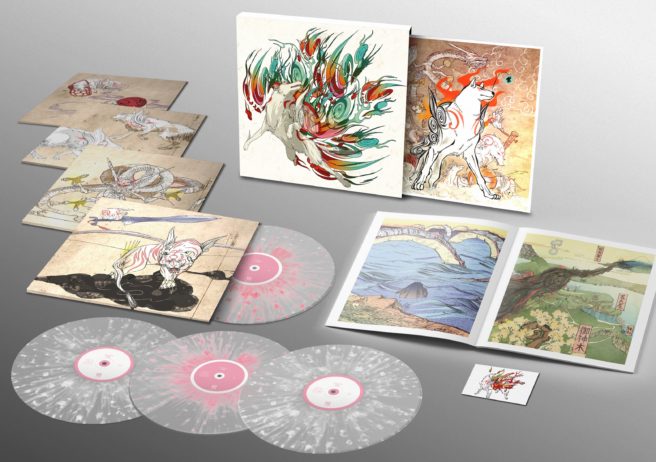 Data Discs is celebrating the re-release of Okami on Switch with a new vinyl. Fans will be able to get their hands on a selection of orchestral tracks in a quadruple LP boxset, featuring over two hours of newly remastered music and packaged in a spot-varnished hardboard slipcase. The package is rounded out by a 40-page artbook and double-sided lithographic print, and a download code for the album in both lossless and lossy formats.
Here's the full tracklist:
SIDE A: A1. Title / A2. Prologue / A3. Cave of Nagi / A4. Kamiki Village / A5. Celestial Brush / A6. Silence of Stones / A7. Cursed Shinshu Plains

SIDE B: B1. Constellation (Rejuvenation) / B2. Ominous Feelings / B3. Cursed Hana Valley / B4. Eat This / B5. Hana Valley / B6. Curse Zone / B7. Shinshu Plains / B8. Cherry Blossom Shower

SIDE C: C1. Shinto Preist Mika's Theme / C2. Lake Harami / C3. Sakuya's Theme / C4. True Sakuya Part 1 / C5. Agata Forest / C6. Waka Appears / C7. Theme of Madame Fawn / C8. Tsuta Ruins / C9. Death

SIDE D: D1. A Great Monster Lies in Wait / D2. Nagi Village / D3. The Canine Warriors' Theme / D4. Kushi's Choice / D5. Sacrificial Arrow / D6. Moon Cave / D7. Susano & Kushi's Love Theme (Two People Gazing at Each Other) / D8. Save I

SIDE E: E1. Conversing with a Brushstroke God / E2. Kamiki Festival / E3. Ryoshima Coast / E4. Cursed Se-an City / E5. Sei-an (Aristocratic Quarter) / E6. Sei-an (Commoners' Quarter) / E7. Save II

SIDE F: F1. Kaguya's Theme / F2. Kaguya's Departure / F3. Queen Himiko's Theme / F4. Himiko's Sorrow / F5. Dragon Palace / F6. Inside the Water Dragon / F7. Oni Island

SIDE G: G1. Kamui of the Nothern Lands / G2. Wep'keer / G3. Kamiki Village's Sorrowful Tradition / G4. Resolve / G5. The Setting Sun / G6. Waka's Fate / G7. Yami (The Emperor of Eternal Darkness)

SIDE H: H1. Okami Shiranui / H2. Reset (Thank You Version) / H3. Rising Sun / H4. To the Celestial Plane (Tamagahara) / H5. The End
And a sample of tracks:
You can pre-order the Okami vinyl here. Note that a limited edition can only be reserved until August 15, with plans for the vinyl to ship in October.
Leave a Reply