Panic Button on supporting Switch, difficulty of ports, why Doom added motion controls later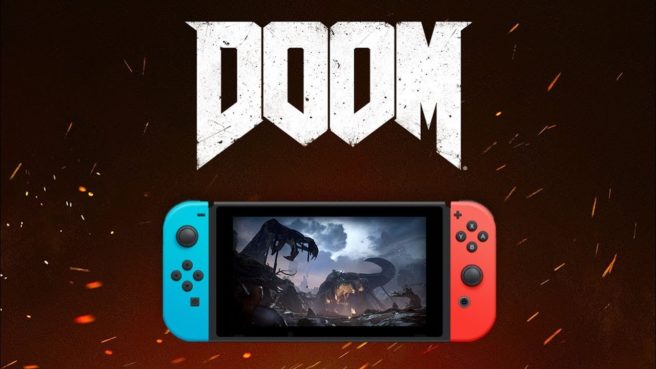 Panic Button has been one of the most prolific studios when it comes to Switch ports. The company worked with Bethesda to bring over Doom and Wolfenstein II, with Doom Eternal to follow later. Panic Button also worked on Rocket League for Switch as well as the upcoming version of Warframe.
GamesIndustry published a new piece today with Panic Button GM Adam Creighton. One of the topics discussed was supporting Switch, of which Creighton had this to say:
"We like to make projects that are special for the target hardware, and Nintendo Switch is a cool device because you use it on the go, you use it docked, and you use it in both modes and move back and forth. So we've done things with the control schemes and motion, but also bringing these AAA big titles in their true form to this hybrid hardware has been really challenging. We like a challenge; it's part of why we go after these things. We wanted to both broaden those properties' availability to a whole new group of people, but we also wanted to broaden the Nintendo Switch as a platform. We really feel like core games make so much sense on that hardware that we want to bring those over."
Creighton later added that the team wants "people to be able to play games wherever they are with whatever they have with them," which is a big reason "why we do so much for the Nintendo Switch and why I like that platform so much, because I can play in my living room with my family, or I can travel and take my Nintendo Switch with me."
Elsewhere in the interview, Creighton went on to discuss the difficulty of ports in more detail:
"Ports are tough, because when someone's designing a game for the first time for a platform, we can cut features or mold features or make changes that people don't know about or see because we're able to make those in advance of release. For a port, we have to bring the game faithfully with all its gameplay and features, or people feel like it's a lesser port.

"And we actually talk about re-targeting a game for a platform. Because ports have either a positive or negative [connotation] depending on who you talk to, and we want to make the game special for the new hardware with as much functionality, but also add to it in a way that makes it special for the hardware. So you get something like Doom or Wolfenstein II and you get the full game, but you also get motion controls. We want to make it as close to the original as possible, working within the constraints of the hardware, but also doing special stuff where it makes sense, but that can't be gimmicky. It's just kind of all over the place."
Creighton also shared some interesting information about Doom. Motion controls were pitched early on, and were always intended to be in the game. However, they ended up being patched in later since "they just weren't where they needed to be" when the port was about to launch on Switch.
Creighton stated:
"When we were working on Doom, we had pitched that we wanted to do motion controls, but as we were getting close to release, they just weren't where they needed to be yet. So we released with melee motion in the shipping version of Doom, then we worked on motion gaming behind the scenes and released a patch in February where we had much more comfortable, much tighter, much more organic feeling motion controls for Doom."

"Same with HD Rumble, or touch. We want to make sure it works and isn't frustrating and feels good and native to the platform. If we're not redoing user interface, sometimes touch doesn't make sense for a particular game because there are certain areas you have to fit within, and if you have these tiny little menus, it's too easy to do false positives on touch screens. We look at everything each platform can do. We just want to make sure it feels good to the game, good to the platform."
Leave a Reply