Playtonic comments further on Yooka-Laylee's move from Wii U to Switch, all down to tech issues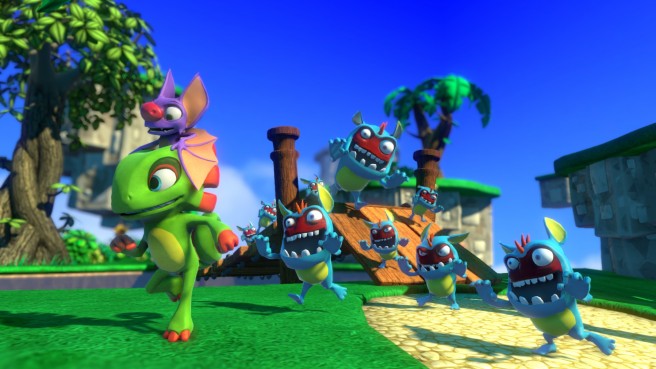 Playtonic delivered the surprising news today that Yooka-Laylee's Wii U version has been scrapped. In its place though, the team appears to be refocusing its Nintendo efforts entirely on Switch.
GamesIndustry spoke with Playtonic studio head Gavin Price to inquire further about the delay. He was asked if the recent news about Wii U production affected the decision, to which he denied.
Price explained:
"No, that had nothing to do with the decision. As we have shared, it's simply down to unforeseen technical difficulties. Its a testament to the team that we have continued to fully explore every possible option throughout making Yooka-Laylee.

"Our backers are why we are here today and that's our first priority. We can assure you this was a hard decision for everyone. Our team has so much combined Nintendo heritage and were huge Nintendo fans as individuals. That's why we're working hard to make things right for our backers and with Nintendo and Playtonic's fanbase over the coming weeks and months."

"We're working hard to provide Wii U fans with multiple options to let them decide how they'd like to move forward. The Playtonic team members who backed were mostly Wii U backers too, so we know it's not the news everyone wanted to hear but we'll do our absolute best to make it the right decision and ensure Nintendo fans get the great experience they deserve."
Price was also asked how he expects backers to convert – be it going for confirmed platforms or waiting on Switch. He said in response:
"We've not even thought abut this. We are focused first and foremost on doing right by backers affected by this decision. Having the game go on to be successful beyond backers is something we're grateful for having Debbie Bestwick and Team 17 helping us to do, but this decision has left us with an even greater sense of care to our backers and making sure they are well looked after as soon as possible and letting them decide if holding out for Switch or another platform is the best choice for them."
Leave a Reply