Playtonic on the response to Yooka-Laylee, how Switch visuals stack up to PS4/Xbox One, physical release possible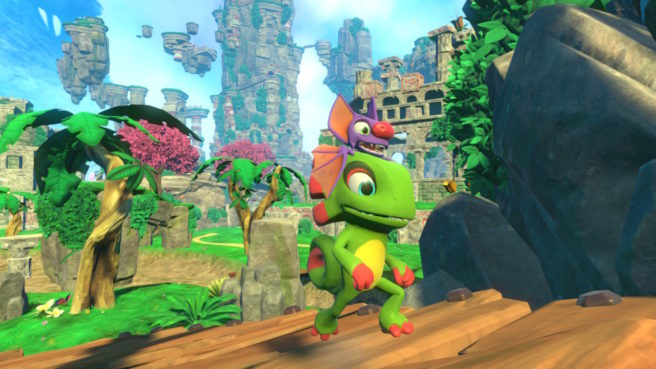 Playtonic finally delivered the news Switch fans had been waiting for regarding Yooka-Laylee. After a fairly lengthy wait, the 3D platformer is confirmed for December 14 as an eShop download.
Nintendo Life spoke with Playtonic Games' creative lead and managing director Gavin Price following the news. Price talked about the original reception, how Yooka-Laylee's visuals on Switch stack up to other versions, and a possible physical release.
Comments to these topics can be found below. The full interview is located here.
On the response to Yooka-Laylee…
We've received tons of amazing messages and great critical feedback, which has helped us improve the game further. It's difficult to please everybody all the time of course, but the comments we saw suggest that fans of golden age 3D platformers enjoyed Yooka-Laylee a lot. Of course, we take all constructive criticism on board, which is why we've spent the months since release adding significant updates to address as much feedback as possible and further improve things like performance and polish. The Switch version has all of this on day one and we hope fans will be pleased.
On how close the Switch port will be to the Xbox One and PS4 versions, in visual terms…
We've actually made improvements and this is definitely the most optimised version of the game. Our priority with the Switch version was to deliver a smooth experience for players, so some compromises naturally had to be made, such as comprimises a small amount of resolution for better performance and optimisations. However, it's nothing that we think players will notice, especially in handheld mode on that excellent screen. In fact, some elements such as shadows are actually improved since the original release! We're really pleased with how this version is running.
On why it's digital only…
Our aim was to get the game into players' hands as soon as possible and a digital launch allowed us to do that. We haven't ruled out doing a physical release in future and would strive to make sure it would have added value which takes time to get right.
Leave a Reply