Pokemon Bank compatibility with Sun & Moon planned for January 2017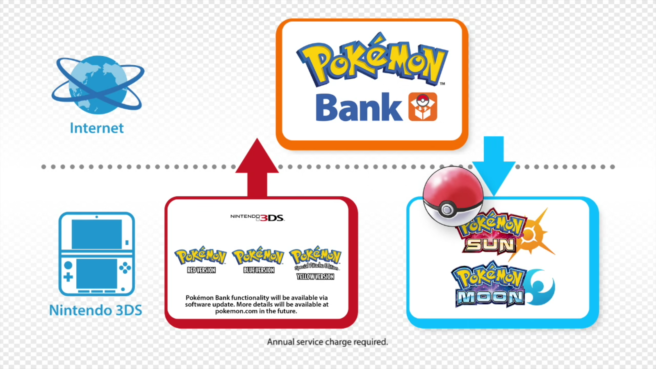 Today, the Japanese Pokemon Youtube channel re-uploaded a video that introduces the Pokemon Bank and Poke Transporter applications for 3DS. What's notable about this is that the video's description was edited to reflect the fact that the update that will allow Pokemon Bank to work with Pokemon Sun and Pokemon Moon is now scheduled to arrive in January 2017, two months after the launch of the new generation of games. This update will also allow players to deposit their Pokemon from the Virtual Console versions of Pokemon Red, Blue and Yellow into the Bank.
Previously, no set release date for this update was announced, though perhaps many people assumed it would be available in late November alongside Sun and Moon. Still, this isn't exactly a new occurrence as Pokemon Bank wasn't available for the launch of Pokemon X & Y back in October 2013 either, instead launching in December 2013. Be patient, trainers, and make use of the Pokemon found in Alola until you can transfer over your old favorites!
Leave a Reply