Portal Knights gets "Elves, Rogues, and Rifts" DLC and free "Questing Update" on Switch today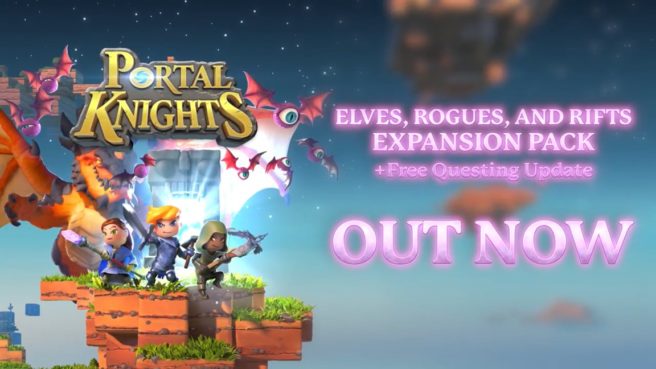 Portal Knights players on Switch have a lot to look forward to today. In addition to paid DLC, a free update is being made available for the sandbox action RPG.
Here's what fans will find inside the "Elves, Rogues, and Rifts" DLC:
– A new Elvish race! Play as an Elf, complete with new customizable ears, Elvish hair styles, skin tones, and more!
– A new Rogue class! Play as a Rogue and explore new talents like stealth and backstabbing, along with dozens of new, craftable weapons and armor.
– The Roguelite Rifts! Extensive dungeons that are randomly generated upon entry – home to devious traps and puzzles. – Time in the Rifts is limited, and they require absolute mastery to obtain the best loot! Players can explore them with friends for their best shot at survival.
– The Elvish City and Rogue's Guild. Brand new environments packed with quests and political intrigue.
Players who purchase the DLC will be able to invite their friends to join them in these new areas so they can preview expansion content for free.
Meanwhile, the free "Questing Update" includes:
– The Mage's Guild! A new quest city full of characters and Elysian lore.
– Dungeon creation! For the first time, Creative Mode players will be able to place monsters and create traps and puzzles with new logic blocks, buttons, pressure plates, and more.
– New Quest Log. Players can keep track of their quests as they travel from island to island and can choose which ones to track.
– Much, much more! Hundreds of quality of life updates, bug fixes, performance optimizations, and other surprises.
Source: 505 GAmes PR
Leave a Reply