Pre-order Mario Kart 8 at Walmart, get a wheel accessory and $5 VUDU movie credits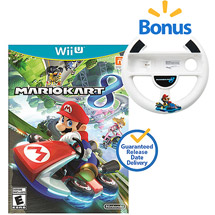 Walmart is offering a pair of items with Mario Kart 8 pre-orders. If you reserve Nintendo's racer at the retailer, you'll be given a "PowerA Wii Mario Kart 8 Racing Wheel" as well as $4.99 in VUDU movie credits. The latter bonus will be sent out via email.
You can pre-order Mario Kart 8 on Walmart here.
Leave a Reply