[Preview] DC's Justice League: Cosmic Chaos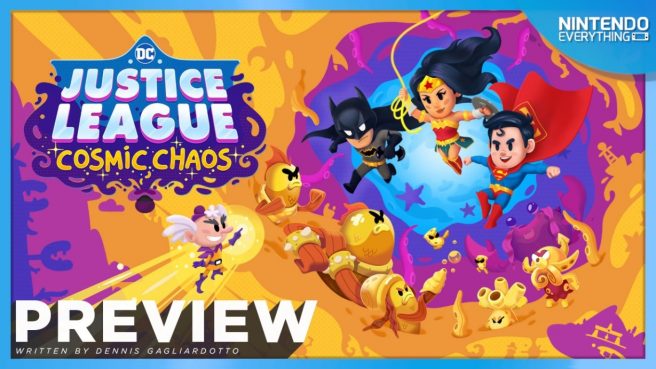 Outright Games has a long history of creating games suitable for all ages that all derive from a beloved property. From Paw Patrol to Transformers, Fast & Furious to Zoids, and Trollhunters to the Dragons franchise of films, chances are the company's name has worked with and been attached to a popular IP that even you, the reader, are a fan of. As a huge fan of superheroes and DC myself, it was an absolute privilege for Nintendo Everything to be invited to an early look at a new DC-focused game to add to the OG catalog – following up from DC League of Super-Pets: The Adventures of Krypto and Ace last summer – in the form of DC's Justice League: Cosmic Chaos.
There has been no shortage of superhero games on Switch, and particularly with DC we've even seen Nintendo publish a title with DC Super Hero Girls: Teen Power. Much like DC Super Hero Girls was, Cosmic Chaos has a very cute art direction that is immediately appealing, and it was a talking point for the entire event in which we got an early hands-off look at everything the game had to offer, including all the great content and Easter eggs in store for long-time fans of the likes of Batman, Wonder Woman, and Superman with plenty to love for newcomers to the DC Universe.
Speaking with some of the developers as they went through Cosmic Chaos's beautifully colorful levels and dungeon design, it was reassuring right away that the folks behind Outright Games' new DC title were extremely passionate and have been lifelong admirers of the source material for each and every hero behind the brand. Because they're such fans, they really put a lot of pride into creating the world of Happy Harbor that would be fun to go around even during downtime. Working closely with DC, the team built out Happy Harbor in a way that fans could latch onto while still having the freedom to add elements to the city to really give it its own identity, becoming memorable. Style and personality were both immensely important to them, and they wanted to ensure that it could even stand up to more notable DC locations such as Gotham City and Metropolis.
The teams clearly had a lot of love for the world they built, and this was noticeable from the moment our preview for Cosmic Chaos began. I found it surprisingly striking as most licensed games that tend to market more towards children historically have lower budgets and are over-simplified, but the love for DC and the grander audience was on full display here.
For me, environmental detail and level design are some of the most important aspects of a game. Without it, a game doesn't feel as compelling as it could be without that world to really get sucked into. DC's Justice League: Cosmic Chaos has some really vibrant levels and looks fantastic. What were you guys aiming for when figuring out each area's structure, length, and atmosphere? Any levels or ideas that were scrapped you can share with us?

We did have many levels scrapped that we wanted to work on, and we even toyed with the idea of making it even bigger than it already is, expanding to other DC locations, but ultimately we just settled on Happy Harbor to make it as vibrant and fun as it could be without compromise. Structure, length, and atmosphere ties into the art direction as well, where we wanted to represent the Justice League in our own way while making it feel like a Saturday morning cartoon, so levels are paced in a way that wouldn't ever take too much of your time.
Progressing through the DC's Justice League: Cosmic Chaos was a joy to watch, and it was also a pleasant surprise to see such a variety of what was essentially a dungeon-RPG be presented in a way that wasn't the usual bleak, rusty presentation so many of them find themselves in. Since combat is such an essential part of a superhero's day-to-day as they fight crime and protect the world, it would obviously play a big part in Cosmic Chaos, and all of it has been done in a way that is fitting for every playable character that we were shown. Every character has a distinct set of abilities, and each has a number of different combat moves for players to take advantage of during the course of their gameplay through an added skill tree tailored to the player and for each specific character as well. The choices provided allow them to upgrade whatever they'd like as they please without following a linear path, and this was a hugely appreciated feature that was unanimously praised at the event.
I love the dungeon-RPG vibe that Cosmic Chaos has. Were there any sort of influences you guys had from other games – possibly personal favorites – that were used as a sort of "template" or inspiration for the game? Was there any inspiration taken from DC's other family-friendly title, DC Super Hero Girls: Teen Power?

If we had to pinpoint it to keep things familiar, it's definitely a mix of LEGO and Diablo. Because we have experience with open-world games, it felt very natural to incorporate all of those learnings into the world of Happy Harbor and do so in a format reminiscent of those great franchises to keep things familiar for players, but we also wanted to tackle something new and still make it accessible to a very large audience.
Combat is certainly done in a way that feels familiar, but also is achieved in a way that isn't too complex for the general audience, keeping things fun, concise, and tight where it counts the most. Heroes can be swapped instantaneously at any time with the d-pad, and animations and transitions are fast, leaving combat feeling fluid as heroes are swapped to perform ultimate combos and special attacks fitting for any scenario they find themselves in. Of course, the dungeon experience – as well as the free time spent throughout Happy Harbor – wouldn't be complete without a plethora of collectibles for players to find and enhance their experience with. While some will be basic achievements and fun things to collect, others, like comic books, can be found and used to unlock new costumes for characters. To provide even more authenticity for the playable characters involved, the team wanted to implement actual comics from a variety of DC narratives such as Frank Miller's The Dark Knight, New 52, and Rebirth, and have costumes inspired from each issue and graphic novel well-represented. Every comic is specific to the character they're attached to also, making them more tailored for the experience rather than a general collection which can then translate to a few unlockables after a certain amount is collected.
To say we've been pleasantly surprised with what DC's Justice League: Cosmic Chaos has to offer would be an understatement, but we couldn't be any more excited about the passion delivered into the world of Happy Harbor and the incredible utilization of DCs incredibly deep lore spanning nearly a century. That said, hearing actual voice acting in the game brings it to life in such a special way. Can you tell us more about that process?

Voices were important from the get-go and a high priority for us, and we wanted to make sure that we had a great script to match the talent coming on board with us. Superman, for example, is voiced by none other than Nolan North, and Vanessa Marshall once more reprises her role as Wonder Woman as she has done so many times throughout a number of animations. We couldn't have imagined this game without the immense talent behind the voices, and in doing so we believe we fulfilled our goal of having something for everyone in this game.
Throughout our preview of DC's Justice League: Cosmic Chaos, the excitement and the love for the brand and its heroes were palpable. It felt more like Comic-Con than a standard preview event for the press, and from everything we were shown, DC's Justice League: Cosmic Chaos is shaping up to be arguably Outright Games' best release yet. The characters are being presented in a cute way that's as appealing as it is charming to both watch and play, so whether playing for yourself or to an audience of viewers on a stream, there's no denying that Cosmic Chaos will be an entertaining trek as we follow the world's most popular heroes in a whole new light.
DC's Justice League: Cosmic Chaos releases March 10, 2023.
Leave a Reply