Prison Architect Gangs DLC and Kite Update out now on Switch (version 1.0.20), patch notes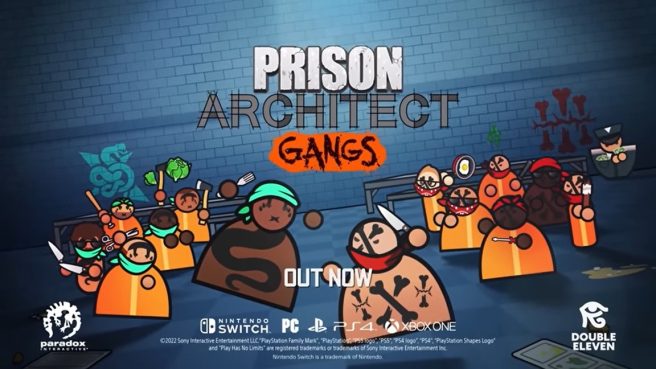 Prison Architect is still being supported on Switch, and the game received new Gangs DLC as well as a Kite Update (version 1.0.20) today.
With the Gangs DLC, the title introduces the element of gang combat into your prison. We have more details below.
Meet the gang
Gangs form and grow by gang members arriving either by in-take or by recruitment. Each gang has its own personality and traits, and will naturally be drawn to recruiting prisoners with the same specific attributes.

Boiling Point
Now you can measure your inmates and your prison's "temperature". As gangs grow and begin to flex their strength, the 'danger temperature' of your prison will rise. Thanks to the 'Boiling point' UI, you get a detailed overview of what's affecting the life of your inmates, allowing you to act swiftly, keeping them happy, and preventing irrepressible riots.

Reform and release
Gang members are now allowed to leave their crew, help them come clean by removing their tattoos and enrolling them in the Gang Rehabilitation Program.

New rooms
Use the Tattoo Removal Room to remove gangs' tattoos, or have gang members train in the Fight Club Room, turning their destructive energy into fighting in a controlled environment.

Crooked guards
Gangs may coerce guards into smuggling contraband or accepting bribes. You can vet guards during the hiring process (Bureaucracy) as well as recruit C.I.s to identify guards that have turned.
As for the Kite Update (version 1.0.20) for Prison Architect, there's new content to access here as well. Continue on below for the full patch notes.
New Grants – 3 new grants not only to aid the player financially but to also serve as an onboarding tool to some of the new features present within the DLC

Positive Energy, Advanced Protection & Gang Welfare

New Gangs! – All new gangs complete with their own visual identify, personality and strategy – including a 'gang' of reformed ex gang members

Jackals, Bone Breakers and Vipers

New Staff and Prisoner Programs – New Programs for Prisoners and a new Advanced Hand to Hand combat training for Staff Members

Fight Club, Gang Rehabilitation, Tattoo Removal, Faith, Breathe and Art Class Programs.

New Rooms and Quick Rooms – Several new rooms for the player to experiment with

Tattoo removal room, the Cage and the Fight Club

A 'Boiling Point' system – Detecting the 'temperature' of the gangs within the prison from the Intelligence menu
Improvements to the Intelligence menu with more security details and options such as restricting access to certain rooms for specific prisoners, transfer prisoners, Guard assignment, Removing prisoners to other facilities (for a large fee) and marking prisoners.
A host of new Gang Behaviours – Making Gangs a deeper gameplay experience – how gangs target prisoners, extracting a toll from non gang members and the recruitment of prisoners into the respective gangs

Gang Members can actively recruit prisoners, make demands and threats to the player, promote new leadership, assassinate targets and can bribe guards

Gang 'Events' – From planned Assassinations of a Gangs leader to food fights in the Canteen – there are a lot of new methods that gangs will use to mark and defend their territory

Once Gangs reach a number of 20 members, they will be able to start making demands. The prisoners who are part of the Gang making the demand will Kick off and start causing problems around the prison. Jackals will start Escaping. Bone Breakers will start Destroying. Vipers will start Fighting.

New method of contraband smuggling into the prison – Crooked Guards!

Crooked Guards will smuggle in contraband

Gang grouping – Gangs will sit (such as Canteen) and move with each other as much as possible to re emphasized their strength and unity
Territory Marking – Gangs will mark their territory with graffiti
Wardens – 2 new Wardens
Guard Dogs – 4 New Guard dogs
Fill Capacity – Fills in specific missing Prisoner Security Levels
Manual Cell Swapping – The ability for the player to move an inmate to another cell within the same Security Level
Prisoner Replacement – Maintain the same number of prisoners within their prison based on their specific security levels
Room Size Mutator – Mutator that removes any room size requirement
Prison Creation (New Game Menu Cleanup) – Cleaning up the number of options in the drop down menus
Prisoner Mail – Prisoners can send and receive mail
CCTV Improvement – New Vision Cones, Toggle, Triggering Waypoints of Prisoner Misbehavior – improvements are locked behind a new branch in the Bureaucracy Tree
New Intake Logic – Once prisoners get off the bus, the bus will leave. Prisoners will no longer wait by the Delivery Room. The Prisoners will make their way to the reception without the need of guards. Once in the Reception, they will behave as normal and be searched by Guards.
Switch
Fixed so Chapter 5 campaign doesn't crashes midway after first requirement is met
Fixed when Crew members become stuck in tunnels when set to 'Attempt Escape'
Fixed The Backup Generator connected to the unpowered cables outputs power units
Fixed when stationed guards do not search objects within reach
Fixed Imbalanced visiting of the Bakery
The Prison Architect Gangs DLC is out now on Switch for $5.99 while the Kite Update (version 1.0.20) can be downloaded for free.
Leave a Reply