Prison Architect: Nintendo Switch Edition out now (version 1.0.13), patch notes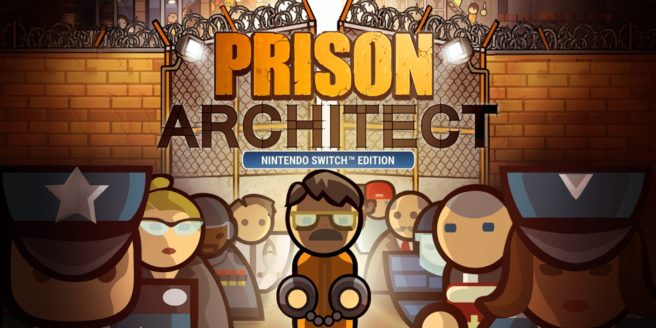 A sizable update for Prison Architect: Nintendo Switch Edition has gone live. If you own the game, version 1.0.13 can be accessed now.
While it doesn't include new features, the latest update contains a massive amount of fixes. The full patch notes can be read below.
Second Chances fixes:

The Shop Counter in the Quick Build Bakery is in the wrong position.
Display Counter's sprites are appearing incorrectly during placement.
Prisoners drop ingredients when their shift at the Restaurant ends.
Completing the "Three Strikes Program" does not grant prisoners with "Work Experience".
Prisoners are petting dogs before "Animal Therapy" starts.
A "Required:" text for the Bakery Room is missing.
Restaurant and Bakery play customer sounds even if the rooms are empty.
"Conflict Resolution" teacher's head is placed incorrectly.
Some objects required for Canteen and Kitchen can't be placed outdoor.
Display counter is incorrectly rotated.
Delinquents are not showing on the "Three Strikes Program" if the Program begins right after the previous one.
Prisoners leave the Three Strikes Program after saving and loading the game.
Customers are not served and are placed incorrectly after the Diner Booth they are sitting at is moved
Shared objects between Kitchen and Restaurant will fulfil room requirements but cause odd behaviour.
"Reform" window can be opened an infinite number of times.
Intake Arrival time can be set over 24 hours.
Therapy Animal Container will get teleported to the Animal Therapist.
The prisoner picks up a new dog after Prisoner Search during Animal Therapy.

Other fixes:

Bureaucracies are no longer being researched simultaneously by different staff members.
Player can access Prisoner Wages page without having an Accountant.
Bureaucracy isn't researched in the order it's queued.
Reset Criteria button does not reset Adjustment Criteria in Reports menu.
Satisfying Recreation need while working in the Flower Garden is not indicated in the Reports > Needs tab.
Guard Tower stair overlapped sniper head sprite.
Amount of money that Prisoners earn for their work is halved in the "Total Prisoner Wages" description.
Riot Police and Paramedics can be commanded to move out from their respective vehicle before the vehicle stopped moving.
Psych Ward contraband is available without the DLC enabled.
Game freezes after multiple field creation requests.
Prisoners facing north direction when using the weight bench will be under the weight bench.
Game crashes if execution is scheduled and a Prisoner is in the Reception Room.
Reform Program History overlap with prison served timeline if there's more than 6 Reform Program.
Prisoners earn money while working in the Flower Garden, even if the Prison Labour option is locked.
In the Reform tab, the "Reformed Prisoner Consultation" program is described as an advanced program.
Prisoners go to work in farming fields despite being assigned to work in the forestry.
Prisoners' heads are separated from their bodies when they sit facing North.
Map Settings Uniform Colours not being applied once set.
Staff Wage pay raise is not constant for 10%.
Lower parts of visitors' heads are cut off.
Danger text is coloured in green.
"Total" value in Finance tab moves up as scrollbar goes down.
Guards operating sorting desks are facing the wrong way.
Quick clone allows wall lights to be placed internally.
Vegetables are not stored on Pantry Shelves and in the Fridges.
Civilian Customers spawn just to beeline for the exit.
The head of the sleeping prisoner is shifted on the bed.
Camera does not follow selected room in Crop Distribution.
Clicking on the polaroid causes a crash, if a "Shakedown" option is active.
"Random" in the "Choose Guard Dogs" tab does not work if DLC "Psych Ward" is disabled.
In the Reform tab, the "Solar Panel Development" program is described as it was an advanced program.
Enlarging the "Valuation" menu causes its text to overflow out of the menu window.
Prisoners with active Punishments go to the Flower Garden during a FreeTime schedule.
Cook Operating a Sink is overlapped by a Food Tray.
Prisoners that are checking their stashed "Booze Bags" cannot move.
Books laying on the bed are z-fighting when zooming in and out.
Missing information about requirements for unlocking Crop Distribution.
A "Crop Sprinkler" can not be placed on the field, if a wall stands in its work area.
Practice Solar Panel progression speed remains the same on different game speed ups.
Players can instantly complete a Tool Cleanup Grant by saving and loading the game.
The laundry baskets are delivered before the Laundry room from the "Quick Build" tab is finished.
Canceling building two connected Quick Build Rooms cause the connected wall to be made of Bricks instead of a chosen material.
Classrooms and Common Room at "The Work Fields" pre-made map has got Staff Doors as entrances.
Stepping Stones always use default sprites instead of what players choose.
Prisoners get stuck between Topiary Bushes while they are released or trying to escape.
Prisoners heads and clothes overlap on bunk beds.
Wind Turbine blades don't move with the rest of the wind turbine when using the Move action.
Connecting Transformer to Power Station resets Current Power Output.
Options disappearing after resizing UI.
The workman icon is displayed in the "Jobs" window for farmers' fertiliser-based jobs.
Task of moving crops to a field have incorrect staff icons in the Jobs tab.
During Strike/Riot on the Todo list is a note about cancelled Intake.
The Phone Taps are not connected with the Phone Booths on the Premade Prison "Green Power Plant: Going Green".
A status "Locked" is not showing after highlighting a "Narcotic Search" option.
Incorrect disconnection warning for the Scanning Machine if the Scanner Monitor is connected.

Multiplayer:

[Multiplayer] Client de-syncs after using cheat spawn.
[Multiplayer] Tall fridges and cookers lose their electrical cables on the Client's side when the Host moves them.
[Multiplayer] The client information about Qualified Prisoners is not updated immediately in multiplayer.
[Multiplayer] The Director's prompt call is only displayed to the host in multiplayer.
[Multiplayer] When the Client is building objects on a map amount of delivered objects will be not the same as the number of ordered objects.
[Multiplayer] Incorrect age in the character's menu in multiplayer.
[Multiplayer] Holding cell doesn't count in Basic Detention Centre Grant at the Client's side.
[Multiplayer] Clearing a room causes the Client to still see the name of the Room on the map.
[Multiplayer] Changing prisoner arrival time on the Client's side makes the timer go backwards.
[Multiplayer] Clients are unable to connect to sessions that are hosted.
[Multiplayer] Expanding prison map in multiplayer not working as intended.
[Multiplayer] % don't appear (or change) on a Client's screen in multiplayer.

Escape Mode:

[Escape Mode] Dogs from DLC GM do not have their graphic in Escape Mode Victims.
[Escape Mode] Destroying door servo causes remote doors unable to open and guards cannot enter the cells at all. It also causes constant triggers to guards.
[Escape Mode] Guards will not drop keys at all.
[Escape Mode] Recruited Prisoners push players if too many of them were recruited.

Localisation fixes:

"Staff" text overflows when adjusting its window size.
Text Overlappings in staff needs menu.
Text too long where it exceeds the prisoner profile menu size.
Text in prisoner profile experience overlaps with bars.
"Allow transfer" text overlapping on prisoner UI image in Transfers tab.
Parole Cutoff Policy "Adjust Cutoff" text being overlapped by adjuster arrows.
Parole Cutoff Policy "%" and bracket texts are overlapping on each other.
Prisoner Intake's Countdown timer is overlapping with other text in the Todo List in certain languages.
All Prisoner Wages text overlapping on the "Decrease" button.
X displaying in the line "Criteria above to be met" in certain languages.
X displaying hours in Total time played.
Other localization fixes, including translations and text overlapping in various menus.

Known Issues:

The water landscape does not complete its function when replacing the floor.
Gardeners not performing the 'Garden Outdoor Area' action in Yards, Deliveries, Garbage and Flower Garden Room.
Drinks count as contraband instead of luxuries.
The CEO calls with the instructions about the Second Chances DLC, even if it is not active when using a premade map.
The number of guards hired stops at 99 in the Staff menu.
New Contraband is available even if the Second Chances DLC is disabled.
Plates on the Dining Table turn invisible.
Food waste which is a product of expired harvest is not collected in the Recycling Bin or the Compost Bin.
Leave a Reply