Radiant Silvergun getting a physical release on Switch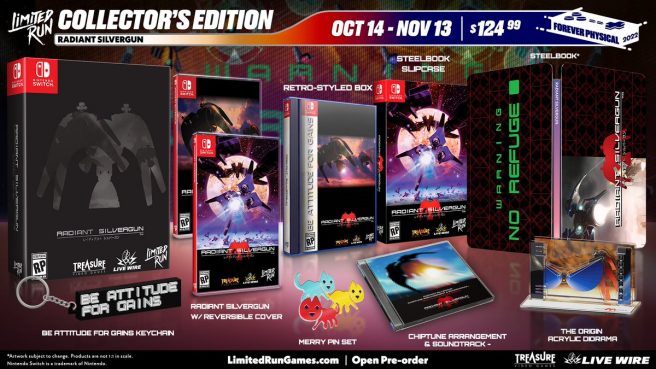 Limited Run Games has revealed plans to produce a physical release for Radiant Silvergun on Switch, and multiple versions are in the pipeline.
A standard edition is planned, along with a steelbook edition and a collector's edition. The last one is the biggest of the bunch with all sorts of extras. In addition to a copy of the game, the collector's edition features a chiptune arrangement and soundtrack, special box, retro styled box, steelbook slipcase, steelbook, a keychain, pin set, and acrylic diorama.
Here's some information about the game:
The human race was annihilated by the light emitted by the "stone-like object" excavated from the stratum before Christ. Only four crew members belonging to the space cruiser "TETRA" and one robonoid survived in satellite orbit. A year later. The supplies on board are depleted. TETRA is forced to re-enter the atmosphere and begin the fight for human survival.
Strategic shooting game

Stages with various topography such as intricate gaps and moving containers become battlefields, and enemies attack from all directions, up, down, left and right. And 23 bosses await beyond… 6 highly challenging stages await you.

There is a chain bonus that keeps increasing the score by continuously defeating the same enemy, a secret bonus generated by defeating enemies in a specific order, and a hidden score item. The key to earning a score is to cover all of these, build an original pattern for strategy, and accurately defeat the target enemy.

Use different weapons that level up by earning points and beat the high score!

Key Features

Score system specialized in the origin of shooting games
Tons of weapons that level up by killing enemies
5 levels of difficulty settings that even beginners can fully enjoy
Story mode with a strong message
Beautiful graphics produced by 3D graphics
Sounds created by Mr. Hitoshi Sakimoto, who is highly acclaimed both in Japan and overseas, to color the world of the game.
Game mode that can be enjoyed with the rules of "Ikaruga", the second project RS work
The physical release of Radiant Silvergun on Switch will go up for pre-order on October 14, 2022. Limited Run Games will be taking pre-orders here.
Leave a Reply