Reggie appearing on stage with PlayStation and Xbox execs at The Game Awards 2018 almost didn't happen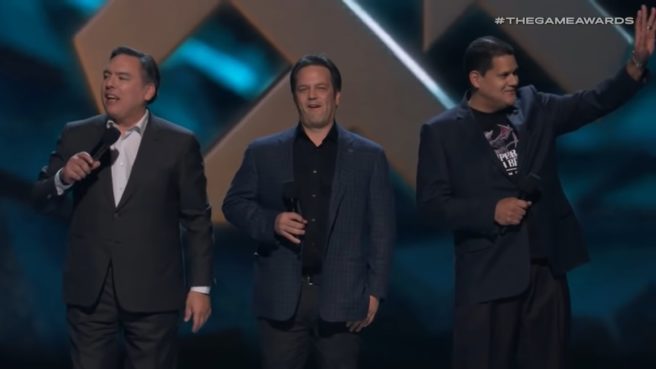 The Game Awards 2018 opened in a pretty neat way. Nintendo's Reggie Fils-Aime, along with Sony Interactive Entertainment Worldwide Studios chairman Shawn Layden and Xbox boss Phil Spencer, appeared together on stage for a short speech. Reggie and Layden have since retired/left their respective companies, but it was a great way to show solidarity within the gaming community.
During a Reddit AMA this week, The Game Awards creator and host Geoff Keighley spoke about how that moment came together. Keighley said it took "months of negotiations to make it happen" and he actually "thought it had fallen apart" just a few days before the show aired. Thankfully, it all came back together in the end.
Keighley said:
"It was a dream of mine for a long time — since the first show. I asked all three of the guys personally and they agreed to do it, but it did take months of negotiations to make it happen. A few days before the show I thought it had fallen apart and I was really sad. But then magically it came back together. Producing these shows is always an emotional rollercoaster, but I'm really proud of that moment, and glad I was able to help make it happen."
Last year, Reggie spoke about the moment as well. He told IGN: "The opportunity to speak to all the players and to deliver a message of community, a message of inclusion, a message that all of us are looking to immerse ourselves in the best content, the best entertainment available today."
Leave a Reply