Reggie on needing better communication and steady flow of games with NX, mobile, merchandise, Universal partnership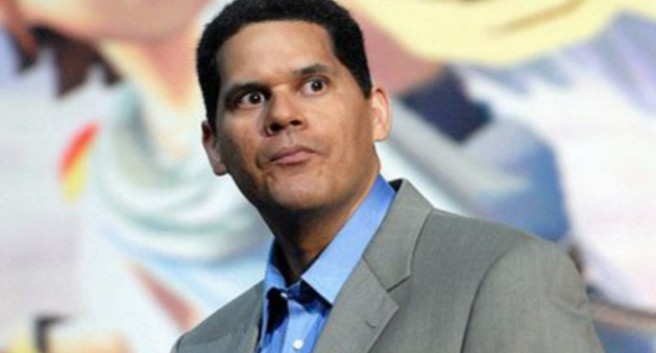 [a]listdaily has gone live with a new interview featuring Nintendo of America Reggie Fils-Aime. Naturally, NX came up multiple times throughout the discussion, with Reggie saying how the company has "a strong concept" and talking about lessons learned from Wii U that can be applied to NX. Mobile, merchandise, and the Universal partnership were other topics that were discussed.
Continue on below for notable excerpts from the interview. You can read the full thing here.
Reggie on how he sees the console space evolving…
Nintendo has a quite appropriate reputation of doing its own thing, so whatever Microsoft and Sony decide to do, that's for them to manage. From a Nintendo perspective, we are focused first on making sure that the consumer understands [The Legend of Zelda] Breath of the Wild and some of the other games that we've highlight here at the show, Pokémon Sun and Moon, Pokémon GO, Ever Oasis and Mario Party Star Rush. There was a lot of content that we wanted to showcase at E3. We've done that. Now, we're going to start moving forward communicating more and more about NX as appropriate. For us, it's all about the right communication at the right time. We believe we've got some games that are going to continue to drive our momentum this holiday, and we believe we've got a strong concept for NX that we'll unveil in the future.
On whether there are lessons learned from Wii U being applied to NX…
Every time we launch a new platform, every time we launch a critical new game, we always learn. We always do our breakdown of what worked, what didn't, and certainly we've done that with Wii U, and we continue to believe that the innovation of the second screen was a worthwhile concept. The games that we've launched on the Wii U are hugely compelling: Splatoon, Super Mario Maker, Smash Bros., Bayonetta 2, the Super Mario game, The Legend of Zelda. Arguably, if you line up all of the single platform games for Wii U and the other two platforms, we have by far the most unique games that are highly rated by consumers and highly rated by the media. So those things worked.
One of the things that we have to do better when we launch the NX—we have to do a better job communicating the positioning for the product. We have to do a better job helping people to understand its uniqueness and what that means for the game playing experience. And we have to do a better job from a software planning standpoint to have that continuous beat of great new games that are motivating more and more people to pick up the hardware and more and more people to pick up the software. Those are the critical lessons. And as I verbalize them, they're really traditional lessons within the industry. You have to make sure people understand the concept, you have to make sure you've got a great library of games, and when you do that, you tend to do well.
On lessons learned from launching mobile apps…
We've seen that we can capture people's attention in the mobile space. Certainly, we've seen that we can create an application that's fun, distinctive, and that has all of that Nintendo charm. And certainly, we've seen a huge amount of consumer participation with the app, especially the WiiPhoto app. Wii photos are showing up all over the place. We'll apply those lessons to the Fire Emblem game and the Animal Crossing games that are launching. In addition to those two, there are another two that will be launching between now and the end of our fiscal year. So we've got a strong pipeline of mobile activity that we're going to continue to bring out into the marketplace.
On the strategy when it comes to picking and choosing what to merchandise…
First, we want to be with the right partners. Vans is a great example, a fantastic partner. [Second] we want to be in the right places, meaning what are the retail outlets that these products are going to show up in? Third, we want to be the right intellectual property. We want to do this in a way that is a growing, sustaining type of volume—not hits and misses. From that standpoint, we're looking at a wide range of categories. Wearables certainly are huge. Collectibles are a big opportunity. The relationship we have with companies like Hasbro and Mattel, bringing our intellectual property to some of their game elements like the Mario-themed Uno set of cards that we're bringing back. There's a lot of activity that we're doing in the space. But the main thing is that we want this to be an upward trajectory growth business, not a cyclical business.
On opportunities from the multi-generational gamer family opening up for things like merchandising and theme parks…
It's opening up huge opportunities for us, and not only in theme parks, not only in licensed merchandise, but it's opening a branding and marketing opportunity for our mainline games as well. We just launched a new ad, which is a millennial mom talking to her son around different things that he should do in his video game experience. Mom is telling the boy not to leave those coins behind playing Super Mario and which arrow to use to defeat Ganon in Ocarina of Time. It's reinforcing that millennial parents grew up playing our content, and there's a huge opportunity to pass on that love to their kids. We've gotten tremendous feedback from that ad, and it looks like it's driving our business—both hardware and software. So there's a lot of opportunities, especially for Nintendo to speak to millennial parents who grew up playing our product and now have an opportunity to pass on that love to their kids.
On the Universal Studios partnership…
It's a huge opportunity. What has been really gratifying for me is that the teams between Universal and Nintendo are working tremendously well together. The Universal team not only has a wealth of experience in creating these immersive amusement interactive situations, but they also have a great affinity for our IP. What this promises for the guest at the Universal Studios theme parks is something that's really magical.
On how theme park people creation attractions now that they know everyone comes in with smartphones…
You hit the nail on the head. These theme park designers are considering that so many of their patrons have a smart device. They're thinking about what that means to the overall experience. I'm not going to share anything in this interview, but certainly the Universal team is aware of it. Certainly it is something that they are considering as they work with us to create this theme park experience.
Leave a Reply